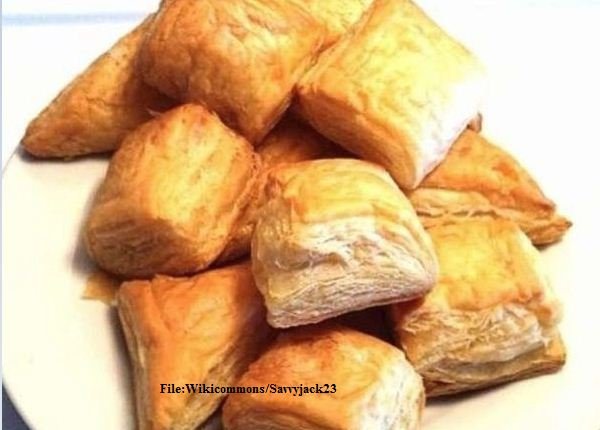 Chicken Pâté Puffs Recipe baked to perfection-Chicken is one of the most versatile dishes. Everybody has his or her version that they love.
But some recipes are just irresistible.
Although some people enjoy it fried, I love it when baked and like trying different variations.
As a foodie, I love experimenting a lot and see what works for me.
But I must say this Haitian version, almost made me drop all those chicken recipes have been following. Haitian version of this chicken beats Africans in many way if well prepared.
I love perfectly spiced recipes, and when I gave this chicken Pâté Puffs a try, I couldn't think of any other. I found myself cooking it almost daily.
It was amazing!
So today, I'm going to help you bring this Haitian baked chicken to your home.
But before we get started, get to know about the Haitian Chicken Pâté Puffs.
Recommended: Traditional Haitian Cake Baked to Perfection
What Are Haitian Chicken Pâté Puffs?
Chicken Pâté puff is a dessert and a great appetizer for any meal. It is part of most Haitian special events and parties.
The delicacy is popular in Caribbean cuisine. Meat may vary depending on your preferences, but in our case, we have used chicken.
If you wish, you can replace the chicken with pork, beef, or fish.
Now that you know when to enjoy your delicacy let's jump right into our recipe.
Ingredients
1 pound chicken breast (ground)
1tbsp fresh lime juice
3tsp minced garlic
1 Habanero pepper
1 tbsp fresh chopped parsley
1tsp ground black pepper
½ tsp ground nutmeg
2 large eggs
14 ounce Dufour puff pastry (frozen)
1 tbsp water
¼ tsp salt
1 tsp chopped thyme
1 tbsp green onions (chopped)
Cooking spray
1 tbsp tomato paste (no salt added)
½ cup chopped carrots
½ cup yellow onions (chopped)
1 tsp apple cedar vinegar
½ tsp ground cloves
A Must Read: 4 Tasty Haitian Breakfast Recipes you Should Try out| Haitian Cuisine
-Guide-
Place a non-stick pan on medium heat and grease it with cooking spray.
Cut the Habanero pepper in halves. Deseed one half and leave seeds on the remaining half and mince them.
Sauté your garlic, Habanero and onions for about three minutes. Stir the mixture until tender.
Add the chicken and continue cooking until lightly browned. Put your carrots and cook for another three minutes.
Pour your lime juice and tomato paste and stir.
Add the remaining ingredients apart from eggs, water and the pastry puff and constantly stir for five minutes.
Remove, and leave it cool down to room temperature.
Transfer the cooled chicken mixture into a food processor and process it into a thick, smooth mixture.
Baking Your Chicken Pâté Puffs
Preheat the oven to 4000F.
Lightly flour a flat wooden surface and roll your pastry puff into 12" by 8" rectangle and cut it into 3" squares.
Beat your eggs in a separate bowl, and add water. Whisk together for an even mixture.
Scoop one tablespoon filling in the center of each square. Brush the egg mixture on the edges of each square.
Fold each square pastry in half and press the edges to close with fork tines.
Brush the top with egg wash and place them 1" apart on a greased baking sheet.
Bake for 20 minutes until they are puffy and lightly browned.
If you like this Chicken Pâté Puffs Recipe you may also like the following: