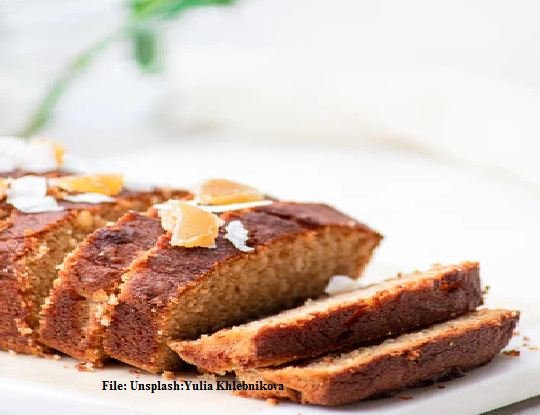 Mkatra Siniya is one of the unique desserts from Comoros. And unlike most baked treats, which require you to add baking flour, for this recipe, you don't need to.
I'm sure you might be wondering, a cake without baking flour?
At first, I couldn't believe it until a friend of mine from the Coastal region in Kenya introduced me to the recipe.
I was baffled and wondering how on earth can one prepare a cake without flour. All my life have grown knowing any baked treat must-have baking flour!
As a foodie though, I thought, why not try it myself. And the results were amazing.
The rich coconut flavor melted my heart. It's one of my favorite.
Recommended: How to prepare Yucca Cake
The Meaning of Mkatra Siniya
Mkatra Siniya is a Comorian name for white cake. The recipe is derived from its preparation. In Swahili, "siniya" means tray.
In Kenya's coastal region, the recipe is called "Mkate wa Sinia," meaning bread prepared on a tray.
So Mkatra Siniya is cake prepared on a tray.
When the ingredients are properly mixed, they are poured into a metal tray, which is placed on glowing embers until lightly browned.
When perfectly baked, the delicacy is so tasty. Comorians love enjoying it over the festive season or on special occasions.
If you would like to bring the taste of Comoros cuisine to your home, I'm going to take you through the recipe.
Read on!
Mkatra Siniya Ingredients
1 kg Suriname rice
3 coconuts
1 vanilla pod (split longitudinally and scraped)
450g sugar
1tsp Cardamons
100ml cooking oil
½ cup coconut milk
½ tsp baking powder
1tsp baking soda
1/2tsp salt
A Must Read: M'tsolola Recipe: Comoros Cuisine
-Guide-
Soak rice in a large basin for three consecutive days making sure you change the water every night.
Drain and rinse the rice on the fourth day for half an hour.
Put your rice, coconut milk, and baking soda until you get a thick mixture.
Preheat your oven to 1800 C.
Add vanilla seeds and cardamoms to the mixture in step 3 and blend again.
Put all the remaining ingredients and 50ml of cooking oil and continue blending.
Baking The Cake
Grease the baking pan and pour the mixture in the pan and bake for twenty to half an hour.
Poke the cake with a skewer, and if it comes clean, the cake is ready. If not, continue to bake for additional five minutes while checking on each stage.
Place the cake in a cooling rack for cooling.
If you like Mkatra Siniya recipe, you may also like the following: