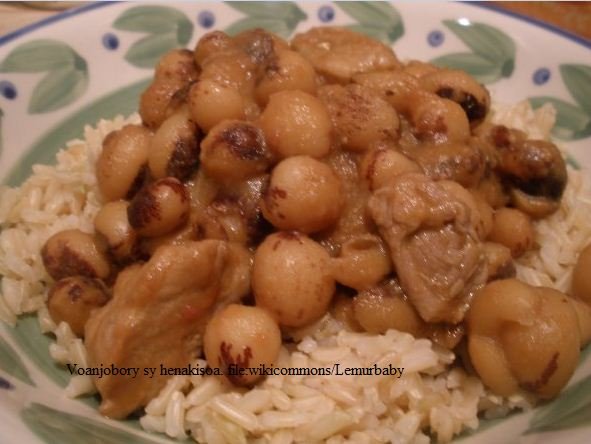 When most people hear about Madagascar, they think of culture, wildlife, and fine chocolate. The island, which is ranked as 4th largest globally, boasts of its diverse culinary traditions. And just like most African kisoa cuisine, the culinary art felt in Malagasy has some influence from different parts of the world. The countries behind the culinary art felt here include Arabia, France, India, and China. A traditional dish usually comprises of rice as the base dish, with meat fish, or poultry and vegetables as a side dish. One of the popular dishes you can't miss here is Voanjobory sy henakisoa. Though the name may sound ambiguous, it is simple pork and Bambara ground peas fried with traditional herbs and served with rice as the base dish.
Without much ado, let's jump right to our recipe.
Recipe (serves 6-8)
500g Bambara ground peas or dry Voanjobory
3 tomatoes (blend to make tomato puree)
Guide
Soak your ground peas overnight. Drain the water and rinse them well
Add water and salt in a cooking pot and boil it over medium heat
Add your peas and cook until tender. Drain any remaining water and set aside
In another separate cooking pan, boil your pork over low heat for 25 minutes.
Sauté your onions and garlic. Add your pork and stir for three minutes.
Add your tomato puree and black pepper. Simmer for five minutes.
Add your peas and stir to incorporate the seasoning well with the meat. Cook for two to three minutes then turn off the heat
Add your coriander and simmer it for two minutes
Serve with rice as the base dish
When prepared perfectly well, Voanjobory sy henakisoa is an excellent addition to your diet. The delicacy is easy to prepare and does not consume much of your time. Better still; it's highly nutritious and will keep your body fueled and nourished.
If you like how to prepare Voanjobory sy henakisoa, you might also like the following: