If you are a fish fanatic, your love for the delicacy will grow if you try out these African grilled fish recipes.
It's no secret that there are increased health risks of consuming red meat, and that adding white meat to your diet can help prevent any chances of developing such complications. Fish is one of the great sources of Omega 3. Adding fish to your diet help reduce chances of developing cardiovascular diseases, promotes health brain, keeps flu at bay and helps improve your overall well-being. But nothing can liven up your day like enjoying a well-seasoned tasty grilled fish.
With the recipes below, you will fall in love with fish all over again. Just take a look!
1. Cameroon Roasted Fish
Roasted fish is one of the foods you can't miss on the streets of Cameroon. The delicacy is so tasty, you'll eat it and repeat. For years, Cameroonian women have mastered the secret of this dish to warm themselves to their husbands' heart. When they are particularly trying to put up their A game with their husbands, they prepare a well-marinated fish traditionally grilled to perfection.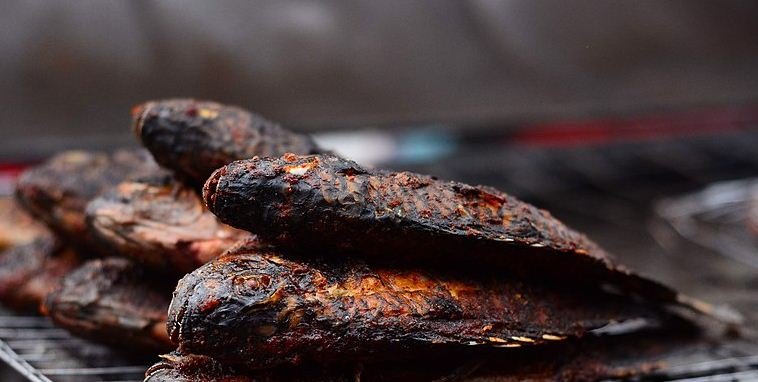 Those who are from Cameroon can attest to this. Not only in marriage, whoever takes on the preparation of this dish and does it so good is on to something cool in any relationship. Spice it well and earn that respect of a savage chef: Spicer. Before you begin cooking, remember to make a list of what you want from whom you are dishing the meal to.
Without further ado, let's get into the meat and potatoes of our recipe.
A Must Read: Be a Covid19 Survival Chef with This African Food
Ingredients
6 mullet fish
8 garlic cloves (minced)
1 bunch of parsley (chopped)
1 onion (diced)
2 diced leeks
½ green capsicum
2 powdered bouillon cubes
1 fresh ginger (chopped)
1 tbsp sea salt
1 tbsp white pepper
1 country onion
1/2 bunch diced celery leaves
Cooking oil
-Guide-
Clean your fish on running water in a sink. Using the tip of your knife, make deep diagonal cuts on both sides of each fish
Wash and clean all your spices that need cleaning and add all of them in a blender and blend them into a thick consistency. Transfer the mixture in a large bowl and mizzle cooking oil and stir to mix properly
Rub your mixture on the fish and stuff some inside the cuts on both sides. Wrap the fish with a cling film and place it on a fridge for two hours.
As your fish marinates, kindle your charcoal BBQ. Apply cooking oil on the grills and place your fish and grill it. Keep turning it to ensure it is evenly cooked. Apply your marinade each time you turn until fully cooked
Transfer on a platter and serve with boiled cassava, fried plantains, or roasted plantains
[bctt tweet="Do you know fish get sun burns if they don't get into deeper water?"]
2. Samaki Ya Kupaka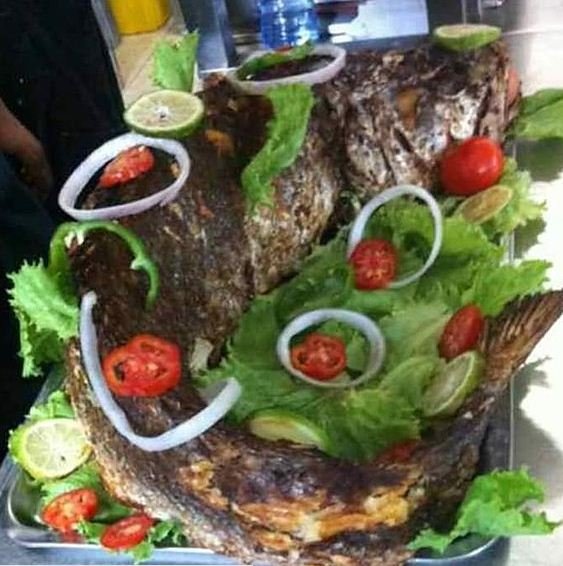 Samaki ya kupaka is a tasty Tanzanian delicacy which is prepared by grilling tamarind basted fish over charcoal. The fish is then served with a coconut sauce to bring out the taste of authentic African cuisine.
A Must Read: 4 Surefire Foods to Deal with Stress
The dish pairs well with boiled white rice and veggies like spinach. One secret to preparing a sumptuous Samaki ya kupaka is in its marination and sauce preparation. If you get any wrong, you will end up messing the entire menu.
And here is a detailed recipe to get you started.
Ingredients
4 lbs whole fish (striped bass, porgy or red snapper)
3 green fresh Thai chiles (stemmed, deseeded, & minced)
1 cup canned coconut milk
1 piece of ginger (peeled and minced)
1 tsp cayenne pepper
3tbsp tamarind concentrate or 1 cup of tamarind sauce
1 tsp curry powder
1tbsp ginger
Lime juice
1 tsp ground coriander
1 tsp ground pepper
Kosher salt
Canola oil
-Guide-
Place your fish in a baking sheet and slice three ¼" deep lengthwise cuts on each side.
In a separate bowl, mix your Chile, garlic, lime juice and ginger and stir to combine. Skin the fish with salt and pepper. Rub the mixture on the cavities and the skin. Wrap the fish with a cling film and refrigerate it for 2 hours
As your fish marinates, heat your cayenne, tamarind, coriander, curry powder and coconut milk in a saucepan under low heat. Keep stirring the mixture until the tamarind is fully dissolved. (For paste stir for about 15 minutes and 1 minute for the concentrate). Set it aside
Put charcoal on your grill and kindle it into a medium-hot fire. Brush the frills with canola oil. Unwrap your fish and place it one the grills.
Brush the fish with tamarind sauce and keep turning often. Continue basting the surface with tamarind sauce each time you turn until the fish is fully cooked. Place it on a platter and serve while hot with white rice and spinach.
3. Spicy Grilled Fish (Nigerian Style)
If you are one of those people who love spicy food, then this recipe is for you. The delicacy is perfectly spiced to give your taste buds an orgasm.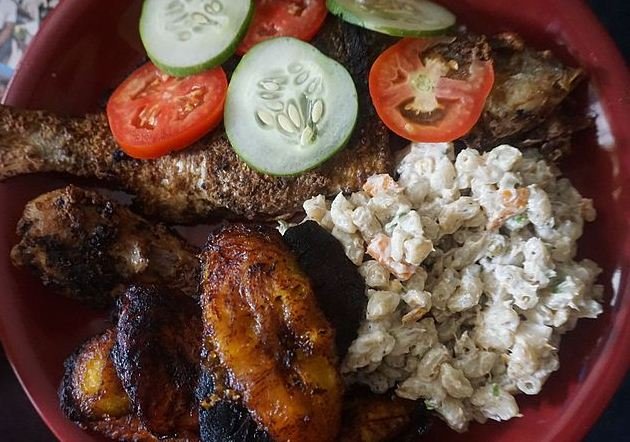 A Must Read: 4 Irresistible Sweet Potato Recipes You Can't Go Wrong With At Your Dinner Table
Ingredients
1 whole Tilapia
1tbsp cayenne pepper
4 garlic cloves (minced)
½ tsp. dried thyme
1tsp ground ginger
1 tsp lime juice
4tsp crushed pepper flakes
1 medium-sized red bell pepper
½ tsp dried rosemary
1 onion (chopped)
Salt
2 knorr cubes
Olive oil
-Guide-
Wash your fish thoroughly and make deep cuts crosswise to allow the marinade to be adequately absorbed
In a blender, add half the onions, cayenne, half of the garlic, 2tbsp olive oil, rosemary, half the ginger, and thyme and blend them into a thick consistency, transfer in a bowl and add your pepper flakes and mix properly
Apply the marinade on the fish and in the cuts you made and marinate for 2 hours in the fridge. You can leave it overnight to allow the marinade to be absorbed better
Add your bell pepper, remaining ginger and garlic in a blender and blend them.
Sauté your onions in a cooking pan until they attain a light brownish color. Add salt, blended mix and Knorr cubes and stir to mix. Cook for about 15 minutes under low heat. Scoop any excess oil to allow the sauce to deep fry properly
Apply oil on your oven grills and set it at 180 degrees Celsius. Unwrap your fish and place your fish on the grills. Grill for 7 minutes then remove it.
Apply the fried pepper sauce on the fish and stuff some inside the incisions. Return it to the oven and cook it for 30 minutes. Keep turning the fish and baste with pepper sauce each time you turn until fully cooked.
Transfer on a platter and serve with boiled rice or plantains. Serve any remaining pepper sauce with fish.
If you love these African grilled fish recipes, you may also like the following: