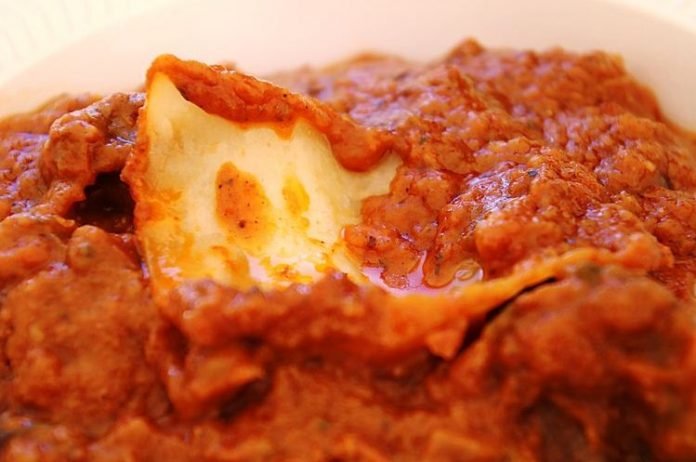 Domoda is a traditional Gambian dish that boasts of its incredible rich flavor. The dish is typically a groundnut soup prepared using unsweetened peanut butter, meat, sweet potatoes, and traditional spices. Due to the cost of meat, most vegetarian dishes are enjoyed without meat, and so is Domoda recipe. But when Gambians want to experience a little luxury, beef or chicken can be added.
However, whether you use meat or not, Domoda won't disappoint. Its preparation is pretty simple, and come out with an incredible flavor. Before I take you through the cooking process, let us have a quick look at the Gambian dining etiquette.
Gambian Dining Etiquette
Dining etiquette is one of the cultural practices which are observed by Gambians regardless of their ethnic differences. Over 90% of the population here are muslims, 9% re christians while the remaining 1% are traditional believers. The dining rules followed are similar to that of many other West African countries. As some of have commented, the Gambians stand out for their soft spoken and welcoming nature.
Don't be shocked to be ushered in for a meal when you pay a visit to any Gambian home unannounced. Meals are enjoyed after washing hands, and the host says "Bismillah" ( Arabic word that means name of Allah).
However, it is not clear why the Arabic word is used while the cuisine is a blend of Portuguese, French and Arabic flare. But during the 9th and 10th century, Arabs gave the first written account the Gambia area.
Smelling food before eating is not accepted in Gambian society. When served with food, you should appreciate and compliment the host for their excellent cooking skills.
Turning down any food offered to you is a sign of rudeness. Even when you are full, try to enjoy in small bits. When done, thank the host and compliment the food.
[bctt tweet="In Gambia, visitors are not supposed to turn down food or smell it before eating. Doing so is against the society norms and a sign of rudeness"]
Now, let's switch our focus to our Domoda recipe.
Ingredients
250g of smooth peanut butter
2 lbs chicken (cut into sizeable chunks)
2 lemons (deseeded and juiced)
1 large onion (chopped)
5 medium-sized tomatoes (chopped)
500g sweet potatoes (peeled and chopped in sizeable pieces)
Pepper
Salt
6tbsp tomato paste
Cooking oil
2 green chilies (chopped)
1 tsp. cumin
5 cloves of garlic (chopped)
-Guide-
Add water in a cooking pot and bring it to boil. Put your chicken pieces making sure they are fully covered by water, and cook them for about 15 minutes. Add your garlic, and simmer it for 40 minutes.
Drain the bouillon and put it aside.
In another cooking pot, bring your sweet potatoes to boil until they are cooked properly. Drain the water with cullender in a sink
Sauté onion in a cooking pan until golden brown
Add salt, tomatoes, cumin, tomato paste, and pepper. Stir for two minutes, then add your chicken. Simmer for three minutes and stir again.
Add your chicken bouillon and simmer for about 10 minutes. Add your sweet potatoes, green chilies, and peanut butter.
Cook for another 15 minutes under low heat then add your lemon juice. Stir properly and taste if the seasoning is perfect. Make any adjustment if necessary, and then serve with white rice.
If you like this Domoda recipe, you may also like