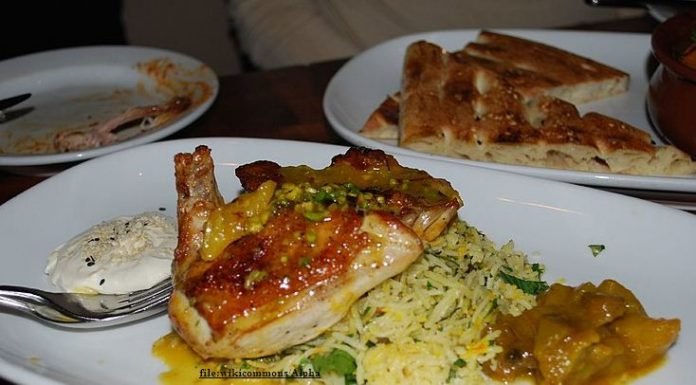 Moroccan peach-roast chicken is one of the popular dishes you can never miss in Morocco. One thing that makes this delicacy unique is its ease of preparation. And if you have been in the region, tasted the food, and wish to learn how to prepare it, then stay close as we are going to take you through the process. But before then, learn more about Moroccan dining culture.
Morocco Dining Culture
Moroccan culinary art is a blend of Arabic, Mediterranean, Berber Andalusia, and light Sub-saharan and European flavors. Women take part in food preparation. Traditionally, food is served in a large communal bowl and placed on a mat or carpet.
Washing hands is mandatory before eating. Putting hands in your mouth while eating is not allowed, as you will use them on the communal food.
Moroccans are hospitable and welcoming. So in case you visit any Moroccan home, avoid admiring things in the house because the host may decide to give it to you as you leave. However, turning away gifts is not accepted.
[bctt tweet="In Morocco, licking your fingers when eating is not accepted as you will dip the hand into the communal bowl"]
When offered food, you should not eat everything. Some portion of the food must be left. In case you didn't like the food, you are not supposed to complain as it's a sign of disrespect to the hosts.
Now take a seat and loosen the belt as we get down to our recipe.
Recipe
Serves- 3
Cuisine- Morocco
Ingredients
2 pounds of bone-in chicken with skin
1/8 cup of margarine
1 teaspoon of Rosewater
1 teaspoon of salt
1/8 cup of honey
Black pepper (ground)
1 pound of peaches that are already pitted and sliced
1 tablespoon of white sugar
Procedure
Heat the oven to a temperature of about 2200C.
Combine the margarine, salt, honey, black pepper, and rose water in a measuring cup.
Heat the mixture over an oven until the margarine is fully melted.
Put the chicken pieces in a baking dish while ensuring that each piece can have access to heat.
Pour the margarine source over the chicken you have arranged in the baking dish, ensuring each piece is fully coated.
Bake in the oven until the chicken turns brown. This should be done for about 15 minutes.
Reduce the temperature to about 1800C.
Add white sugar and peaches.
Leave it to bake for 15 minutes.
Remove the chicken and put it in a serving plate
Pour the juice from the pan on the chicken.
Serve while hot with rice.
To enjoy the dish, you can serve with your best starch food. During preparation, you can add more spices to have the taste you desire. If you love this Moroccan peach roasted chicken recipe, you may also like