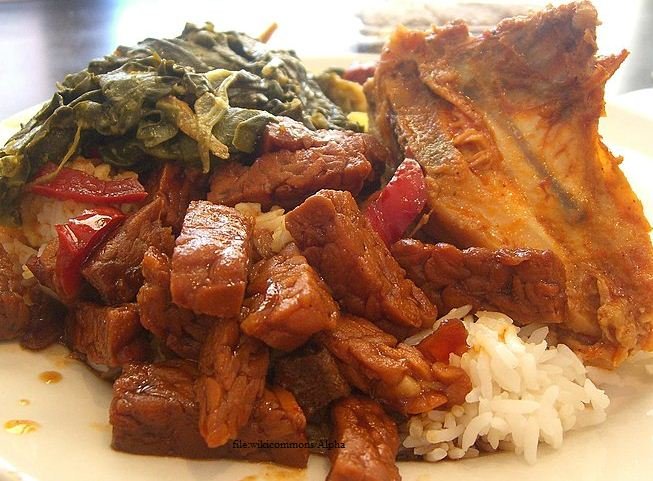 AKOHO SY VOANIO – A Must for Christmas Season.
Akoho sy Voanio is a tasty dish prepared with chicken and coconut milk. The delicacy is one of the popular dishes that Madagascar prides itself of. What makes this dish stand out from any other ordinary food is its taste.
The coconut milk flavor and rich chicken relish bring out the real authentic Malagasy cuisine. Rice is a base in Malagasy cuisine and is served in almost every dish and Akoho sy Voanio is not an exception. The delicacy is loved by many and is one of the Malagasy Christmas foods.
Though you can prepare the dish any time of the year, its taste and richness makes it particularly a go-to meal during Christmas time. Today, we bring you this special Malagasy dish right to your kitchen.
But before we get down to cooking, let's have a quick overview of Malagasy culture.
Madagascar Culture
Malagasy people value their culture and this is evident in their food, cultural beliefs, arts, and music. Over half of the Malagasy populations are Christians (thanks to colonialists' missionary!), 7% are Muslims, while the rest of the population practices Hinduism and African traditional religion. The Christians value their culture and honor their ancestors. When a Christian dies, the corpse is taken to church for blessing before a ceremonial send-off.
The dead are buried close to where they lived temporarily. After some time, the bones are taken out of the tomb and enshrouded for transfer in an ancestral tomb. The loved ones decide where to transfer the bones (can either be in a mother's or father's tomb) depending on the deceased ancestry. Ancestral tombs are sacred, especially for the royal families.
In Malagasy, the deceased are temporary buried near where they used to live, and their remains are enshrouded and transferred to the deceased ancestry
Click To Tweet
The dead are viewed to have some powers to impact the living. Traditional rituals are conducted by the family to honor the dead to avoid the evil spirits from haunting them. The belief is also popular among all Africans and is practiced in most countries.
Now let's get down to cooking. Here is what you need.
Ingredients
1 lb chicken (reduced in sizeable pieces)
2 medium tomatoes (chopped)
Guide
In a large bowl put your lemon juice, cayenne pepper, and salt. Stir the mixture with a spoon or mix with fingers. Add your chicken pieces and mix then with your marinade making sure every piece is coated. Put it in a fridge for one and a half hours
Add your cooking oil in a skillet and sauté your ginger, onions, and garlic. Add your chicken and simmer for 20 minutes over medium heat.
Add your tomatoes and stir for two minutes. Simmer for 10 minutes then stir again for a minute.
Add your coconut milk and let your chicken cook fully under low heat
When ready serve with rice
If you love this Akoho sy Voanio, you may also like
---
The perspectives of our community matter in media! It's about our voice,  and taking control of our narratives. Please join and support us!
Visit AfroGist Media channels  often for news updates. Access other thoughts and analyses here, reach out to post your commentaries, and feature your platform.  Watch shows, and participate in crucial conversations that concern us. Connect with the community.