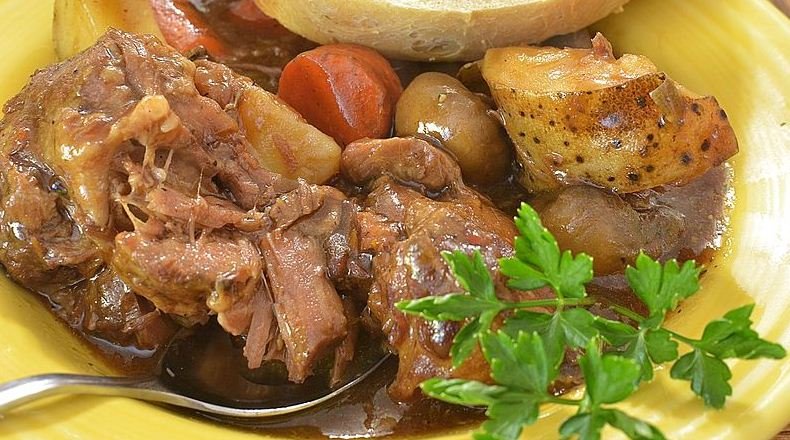 Kamounia recipe is one of the dishes that makes Tunisia cuisine one of its kind. Normally, the dish is prepared with sheep giblets and cumin, but to enhance its flavor, turmeric, garlic, parsley, and octopus can be added. It is important to get the spice measurement right to achieve the desired aromatic flavor.
The unique taste of this hearty stew makes it stand out from any other ordinary stew. The delicacy is popular not only in Tunisia but also at international restaurants due to its distinct flavor and high nutritional value.
You can't visit your favorite restaurant now due to lockdown restrictions or fear of contracting coronavirus? Got you! Why not bring this hearty Tunisian delicacy right to your kitchen now? Let's walk through the recipe together in this post, and you should be ready to prepare the dish for yourself at home. The spice precisely measured here, and steps are easy to follow. Just grab a pen and paper to take notes!
Before we jump right into our Kamounia dish, here is an overview of Tunisian culture. This is important to know to experience the taste of Kamounia on a deeper level, and to appreciate the values of this awesome dish you are about to make for yourself and/or family. In addition, when you travel abroad, you are one leg ahead of someone who is not reading this post!
Tunisia Cuisine
Tunisia cuisine is a blend of different ethnic and culture mix. First, the Amazigh (dubbed Berbers by the Romans, the native North Africans before the Arabization/Islamization of the region), second European, and third Middle Eastern flavors. Dishes are prepared with olive oil, cumin, coriander, saffron, cinnamon, aniseed, orange blossom, rose water, or mint flavoring.
Most recipes are accompanied by garlic, Harissa, and chilli seasonings. This may vary from one region to another. However, baked lamb delicacies and chicken are the most popular dishes spread across the country.
Tunisia Dining Culture
Tunisians have maintained their dining traditions for so many years. Their strong sense of etiquette when dining makes their dining culture stand out from other countries. And if you have ever had a chance to dine with the locals, you can agree that Tunisians are very welcoming.
When you visit any Tunisian home, you will be encouraged to consume more food. So get ready; go there with an appetite or be prepared to blow out your stomach!
Tunisians pay attention to how you dress as dressing is somehow attached to visitor's code of dressing to respect. To them, dressing well is a sign of respect. Your friendship can definitely experience a fall out if you appear shabby! Visitors are urged to remove their shoes when entering the house.
Traditionally, food is usually served on a high knee table, but slowly people are adapting to the European chair and table habits. Before the food is served, a washing basin is brought in for hand washing.
Women and men eat separately. When serving food, Men are given priority, followed by women and kids. Food is enjoyed using the right hand, and no one is expected to start enjoying the dish before the host blesses it.
[bctt tweet=" When served with food in Tunisia, you are not supposed to start eating before the host blesses the dish"]
Because the Tunisians are very hospitable, they view it as good manners when a visitor consumes everything, hence don't eat two spoons from the meal and declare that you are good -that is if you are trying to impress them. Be ready to clean out the last 'anything' that exists on that dish, or your plan fails!
Now let's delve into our Kaounia recipe.
Ingredients
500 grams sheep giblets (chopped)
Five cloves of garlic (crushed)
1 ½ tsp harissa
Half tablespoon cumin
Half tablespoon turmeric
Olive oil
Two large tomatoes (chopped and blended)
0ne bunch of parsley
Pepper and salt
-Guide-
Put your chopped sheep giblets in a large pot or saucepan. Add water and garlic and simmer for 25 minutes under medium heat
Drain the broth in a separate bowl and set aside
Add cooking oil in a pan and heat it. Add your meat and increase your heat to high. Keep stirring for five minutes and do not add water
Add your tomato puree, cumin, Harissa, turmeric, salt, and pepper
Stir for one minute and add water until it covers your meat
Lower the heat to medium-low and simmer for 15 minutes
Turn off the heat and add your chopped parsley. Simmer for two minutes then serve with rice
Wrapping Up
Kamounia recipe is for sure one of the dishes that can bring a family together. It doesn't disappoint. Try it today and let us know your experience.
If you like African Kamounia Recipe, you may also like: