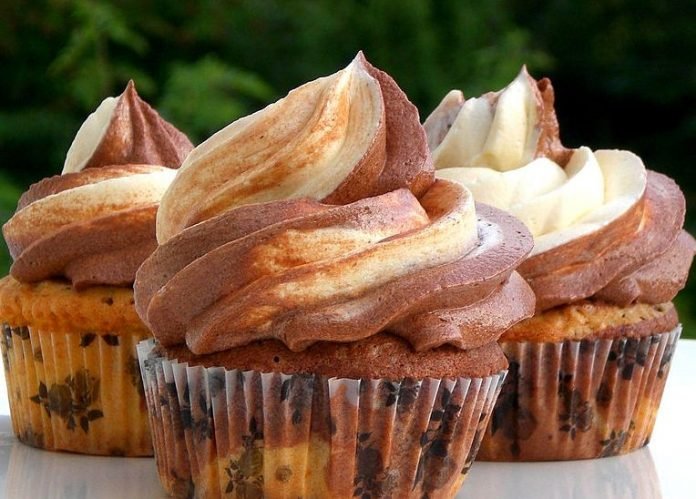 Baking banana cupcakes just got better. Nothing can ruin your day like craving to enjoy your treat, and you can't have it. Worse still, you rush to your nearest store, and you can't seem to get the flavor you like. Has this ever happened to you?
Well, if you are one of those people who love banana cupcakes, then I'm sure you wouldn't like to go through such experiences.
But what if I teach you how to prepare your classic banana cupcakes at the comfort of your home? Is this something you would like to learn? Well, stick with me to the end as I take you through different banana cupcake variations.
A Must Read: 4 Kids Friendly Treats That Never Disappoint
Banana Cupcakes Ingredients
2 eggs
250g exe self – raising baking flour
½ cup of buttermilk
3 medium-sized ripe bananas (peeled and mashed)
½ tsp nutmeg
1/2tsp salt
350grams brown sugar
½ cup unsalted butter
1tsp vanilla extract
-Guide-
With the help of a sieve, sift your baking flour in a separate bowl.
Put all the sifted flour along with other dry ingredients in a hand or dough mixer. Mix them thoroughly until they are properly mixed.
In a separate bowl, add your sugar and softened butter. Blend with a hand mixer and beat one egg at a time while whisking each time.
Add your vanilla extract, nutmeg, and mashed bananas and continue mixing. Transfer the mixture to the dry ingredients and add your buttermilk. Leave the dough mixer do its work until your ingredients are thoroughly mixed.
With the help of an ice cream scoop or a spoon, fill your cupcake liners 2/3 full and place them on a baking sheet.
Preheat your oven up to 190 degrees Celsius and place your sheet in the middle rack. Bake for 20 minutes and insert a toothpick on the center. If it comes clean, then your cupcakes are evenly baked.
Leave the cupcakes on the pan like ten minutes to cool before transferring them on a cooling rack.
Frost your cupcakes with your preferred frosting. Check out some of the frosting you can take advantage of
A Must Read: Ghanaian Butter Bread Recipe: How to Make Soft Ghanaian Butter Bread
How to Make Different Banana Cupcakes Frosting
Peanut Butter Frosting
400g creamy peanut butter
200g confectioners' sugar
100ml heavy cream
120g unsalted butter
3 tsp. vanilla extract
Preparation
With the help of an electric or handheld mixer, cream your butter and peanut butter with the medium speed setting until fluffy and light.
Using the same speed setting, add your vanilla extract and sugar. Mix them until evenly distributed, making sure no limps, swirls, streaks or clumps.
Add you heavy cream and turn the speed setting to high. Mix for two minutes and taste.
If thin add more sugar, if sweet, add salt if thick add more cream.
With the help of a piping bag or spatula, frost your cupcakes and enjoy
Milk Chocolate Frosting
50g unsweetened cocoa powder
80ml heavy cream
250g unsalted butter
500g confectioners' sugar
3tsp vanilla extract
Preparation
Sift sugar and cocoa powder and put aside
Cut your butter into cubes and cream it for about two minutes until fully and light.
Whisk your vanilla extract and heavy cream making sure the vanilla is evenly distributed.
Pour your heavy cream into your butter mixture and mix at low speed. Add your sugar mixture and continue mixing until evenly combined.
Increase the speed setting to high and beat the mixture until creamy and light.
Taste if all the ingredients are well incorporated. Add heavy cream if too thick, if sweet, add a pinch of salt, if thin add sugar and mix again.
Use a spatula or piping bag to spread your frosting.
Note: Make sure your cupcakes have cooled down before applying the frosting or it will melt down
If you like these banana cupcakes recipes, you may also like the following: