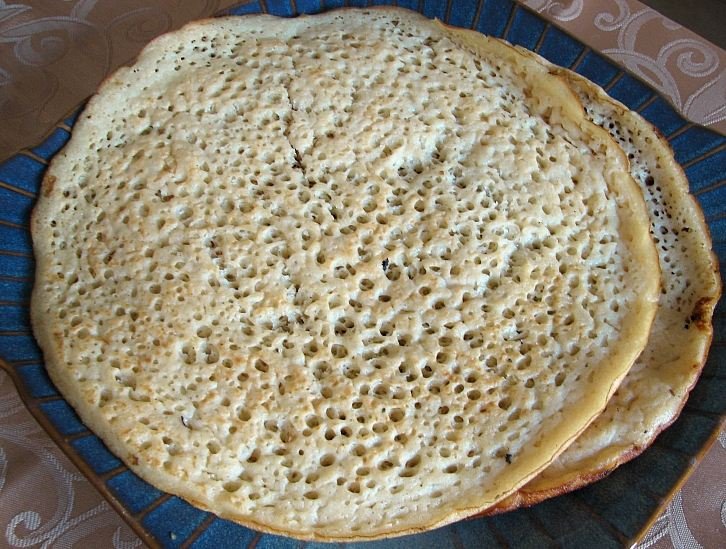 Your ultimate guide to preparing a limb smacking Lahoh
Lahoh is a Somali national dish. You will be forgiven if you mistake it for Injera. Though it often looks like Injera, their ingredients vary. Those who have had a chance to enjoy this amazing delicacy would swear how sumptuous it is—no doubt about that. When perfectly prepared, it can be addictive! You can't just get enough. This posts features this awesome Somali delicacy. Follow the recipes and cooking guide for Lahoh Somali cuisine, try it at home, and watch yourself going gaga at the taste!
First, before we dive into Lahoh cooking guide, get to know what it is, and how to dine when you are in Somali. Stay with me!
What is Lahoh in Somali Cuisine?
Lahoh is a tasty flatbread with a spongy like feel that replicates that of a pancake. The flatbread is normally prepared using baking flour and other traditional spices. Whether you are looking forward to preparing your breakfast, lunch, or dinner, Lahoh comes in handy. As a result, Lahoh becomes a sought-for when people need a break from pancake, or just a simple twist with something fresh and equally satisfying.
When can you eat Lahoh?
Let me say with an emphasis that Lahoh can be eaten anytime of the day. For breakfast, you can enjoy it with honey or butter along with tea or coffee. For lunch, you can pair it with a savory meat stew of your choice. similarly, for dinner, you can enjoy it in a kabab style. In fact, you can eat Lahoh as a snack if you are so craving in the same way you eat pancake. Unlike waffle as a substitute, Lahoh gives you the chance to explore spice in a flour-based ingredient in a way that is practical, tasty and enjoyable. Now that you have an idea what Lahoh is let's have a look at Somali dining culture.
A Must Read: 4 Afro-Caribbean Dishes You Should Taste Before You Die
Somali cuisine and dining culture
Meal of the day and practices
Somali is a Muslim dominated country. Hence, certain norms and practices are not allowed by customs. All meals are prepared by women, and are, for the most part, meaty. Breakfast is one of the most important dishes in Somali. Breakfast usually comprise of tea or coffee along with a pancake. Lunch is the main dish of the day (comprised mainly of pasta, rice spiced with sage, cumin, cardamom, and cloves) and is enjoyed by the family. Somalis eat dinner late. For example, dinner is normally served as the last dish around 9 pm. In most cases, Azuki beans cooked with sugar and butter are enjoyed at dinner. A cup of cardamom-spiced milk marks is enjoyed after dinner.
You may also like: Satori African Recipe: A Tasty Congolese Fried Fish
Behavioral clue around dinning table
Somalis are welcoming and generous, so if you get an invitation to any Somali home, you are expected to behave modestly. All meals are eaten with the right hand. Dining starts and ends with hand washing with Men and women in separate places. Meals are served in a communal bowl, and it is inappropriate to reach food that is facing others. Only eat the part in front of you. Returning food in the communal bowl that you had picked with your hands is not allowed.
The No-Nos
Over-eating and finger-licking are considered inappropriate. Similarly, it's frowned-upon to bring pork or alcohol to a Muslim home. This applies to any gift that consists of these ingredients. In addition, never compliment anything in your host's house unless you are indirectly asking for it because they may end up giving it to you.
[bctt tweet="In Somali, it is a taboo to bring pork or alcohol gifts to a Muslim"]
With all these in mind, let's dive right into our Lahoh recipe.
Lahoh Somali Cuisine ingredients
1 cup of all-purpose baking flour
1 cup of millet flour
3 eggs (optional)
1 tsp yeast
1tbsp sugar
1tsp ground Cardamom powder
Pinch of salt
Water
Cooking oil
-Guide-
In a large basin, add all the ingredients apart from water and cooking oil.
Sprinkle 6 tbsp of cooking oil and mix the ingredients adequately. Crush any lumps that may have formed.
Add water and whisk it to form a thick batter.
4. Set it aside to rise until bubbly for one hour
5. Add two tbsp of cooking oil to a skillet and heat it. Add 1/8 of your batter to the skillet and spread clockwise starting from the middle.
6. Cook one side until golden brown. Sprinkle some cooking oil if needed to avoid sticking.
7. Place a serviette on a platter and transfer you Lahoh. Repeat the process for the remaining batter.
8. Enjoy with coffee, tea, or stew of your choice.
If you like this Lahoh recipe, you may also like the following: