They say breakfast is one of the most critical meals of the day, as it sets the tone for the rest of your day—no doubt about that. So if you dream of a great breakfast that is simple, healthy and satisfying, you need to be creative in your kitchen. But you don't have to pull your hair hard to achieve all this. Just sit back, I got you.
If you are a professional chef searching to see what customers out there want, or you are simply looking to experiment with some great breakfast ideas for your family, these breakfast recipes lined up here will meet the need. As cities around the world reopen, we need to pump up our vibes, get back to normal routine and sizzle up a bit. Lockdown in no joke! Now the recipes featured here were selected not only because the meals are tasty, but also because they are straightforward, simple, and incredibly nutritious. Just take a look!
1. Potato Omelette with Peanut and Banana Smoothie
Eating beaten eggs can be boring at times. You need to get creative and discover other ways of enjoying your eggs. And this potato, Omelette, never disappoints. Here is what you need
500ml milk
4 potatoes (peeled and chopped)
Peanuts
1 bunch parsley
1 green pepper (finely chopped)
4 eggs
4 ripe bananas
1 tsp black pepper
1 onion
1 tsp salt
Cooking oil
Guide
Wash your potatoes and put them on a cooking pot. Add water and cook them until they are ready.
Drain all the water and smash them into a thick paste.
Mix your salt, parsley, black pepper, onion, and green pepper in a large bowl. Add your mashed potatoes and mix appropriately until you attain a consistent mixture
Beat all your eggs in a large bowl and stir gently. Add your potato mixture and stir perfectly to ensure the combination is consistent.
Heat two tablespoons of cooking oil on a cooking pan and fry your egg mixture
For the smoothie, put your peeled bananas, milk, and peanuts in a blender and blend them until you get a thick mixture. Do not add any sugar.
Enjoy it with your potato omelet
2. Sweet Fried Plantains with Eggs
If you are in a hurry and love enjoying eggs for breakfast, this recipe will get you covered. Though easy to prepare, it is incredibly nutritious with loads of proteins, starch, and vitamins to keep your body well replenished.  
Its taste and vibrant appearance get you in the mood of eating even before you get the first bite. You will, for sure, love it!
Ingredients
Three eggs
Three ripe bananas (peeled and chopped)
1 green pepper (chopped)
1 tsp black pepper
1 onion
1 large tomato (cut into small sizes)
Cooking oil
Salt
Guide
Apply little salt on your sliced bananas. Heat oil in a skillet and shallow fry your bananas until they a golden brownish appearance
In a cooking pan, sauté your onion and green pepper for two to 4 minutes.
Add your chopped tomatoes and cook them for two minutes.
Sprinkle some salt and black pepper and stir well.
Beat your eggs on a bowl and whisk them. Add them to the mixture and cook on both sides and serve while hot with tea or coffee
3. Orange and Cardamom Flavored Pancakes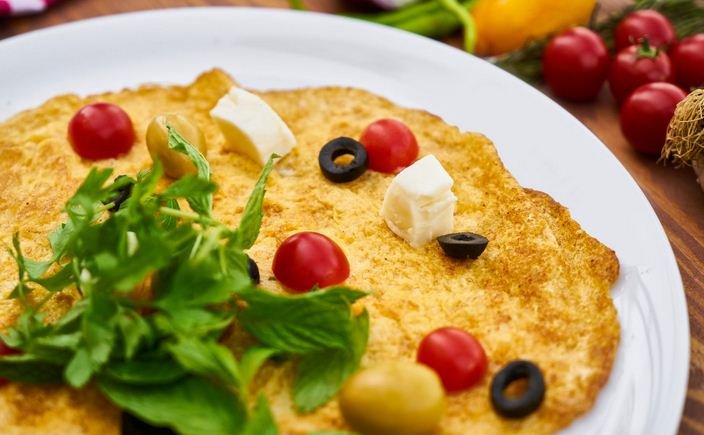 If your nearest supermarket has run out of bread or probably don't have money or time to buy one, you can still treat yourself with Orange and cardamom flavored pancakes. The orange and cardamom flavor gives your taste buds an orgasmic flavor that is addictive.
How to prepare yours
Ingredients
2 eggs
500ml all-purpose baking flour
1 ½ tsp ground cardamom
2tsp sugar
1tsp orange extract
½ glass milk
1 tbsp melted butter
4tsp baking powder
1 tbsp orange zest (fresh)
Cooking oil
Guide
Add milk, butter, eggs, cardamoms, orange zest, and orange in a large bowl. Whisk until all the ingredients are well incorporated
In another bowl, add your flour, salt, baking powder, 2tbsp of cooking oil, and sugar. Mix them properly
Add the mixture you made in step one to your bowl. Use a spatula or whisk until you get a smooth batter.
Add two tablespoons of cooking oil in a skillet and heat it. Pour a third of your batter and spread it evenly on your skillet. Cook for one to two minutes, then turn it on the other side and cook until your pancakes have a golden brown appearance.
Place a paper towel on a plate and transfer your pancake. Repeat the process for the remaining batter
NOTE: They are very addictive, you can never get enough!
4. Banana Oatmeal Pancakes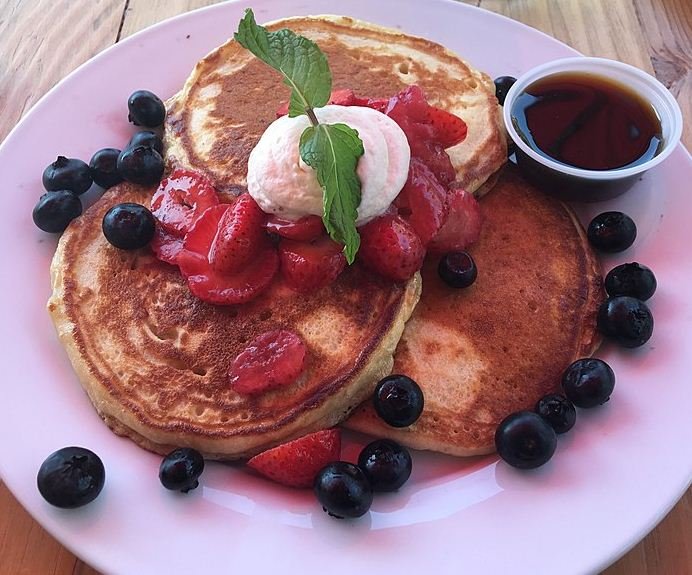 When you get busier with your morning errands, banana oatmeal pancakes can be a great addition to your table.
Ingredients
Two ripe bananas
200g oatmeal powder
Three eggs
1 tsp cinnamon powder
Guide
Peel your bananas and zest them in a large bowl
Add cinnamon powder to your zested bananas. Beat all the eggs, grind half of your oatmeal and add them to your bowl. Mix them properly
Heat two tablespoons of cooking oil in a skillet. Put a third of your mixture to the pan and let it cook properly
Once ready, transfer it to a serving plate. Smear a layer of natural honey and enjoy with your tea
5. Avocado Toasted Bread
Avocado is highly nutritious and will keep you fuller for longer. It's loaded with healthy fats, Vitamin E, C, B-6, and K, which are essential to the body. Though most of its calories are in fat form, it is far healthy to apply on your bread instead of a blue band or Zesta.
How to prepare your avocado bread toast
Ingredients
Half bunch of cilantro (chopped)
Lime
Pepper
Salt
Hass Avocado
Guide
Choose a ripe avocado that has no bruises.
Wash it and cut in half. Remove the seed and take a spoon and scoop it in a bowl then smash it.
Squeeze three to four tablespoon of lime, add chopped cilantro, salt, and pepper. Mix properly and spread the mixture on your sliced bread. Enjoy your tea while hot.
If you love these lockdown breakfast recipes, you may also like