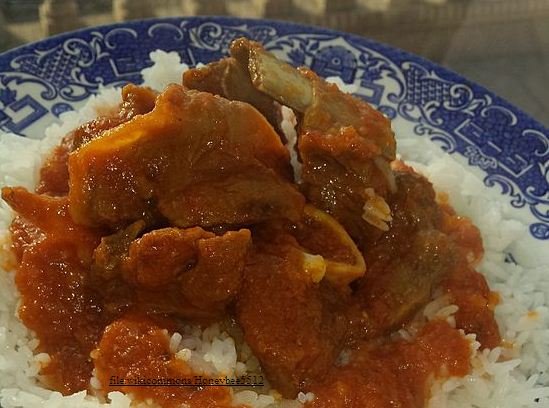 Caldeirada de Cabrito is an Angolan delicacy which is prepared with goat meat and Chourico with a little Piri Piri to give it a savory flavor. The dish is prepared on special occasions but can be enjoyed at any time of the year. As a Portuguese colony, Angola cuisine is majorly influenced by its colonizers. This is evident not only in food preparation but also in its the dining etiquette and culture.
Let's have a quick look at Angolan culture and how it was influenced before we get down to our Caldeirada de Cabrito recipe.
Angolan Culture
The culinary art felt in Angola is a fusion of Mozambique, Portuguese, and Brazilian flavors. The main staples include rice, pork, chicken, beans, and funje (carbohydrate dish prepared using cassava and have a similar texture like mashed potatoes). Different sauces and vegetables like tomatoes, okra, and onions are used.
Fish and seafood are popular along the coastal strip. Most seafood dishes prepared in the coastal part are spiced, and the cuisine practiced here is said to have a strong influence from Portugal.
Angolans are very welcoming. They love inviting visitors to their homes. Though the cuisine has influences from different countries, the Portuguese seem to have a significant impact. As mentioned earlier, this applies to both when entertaining guests and also to mealtime.
When invited for a meal, you should dress well. Bring along gifts like flowers, fruits, and chocolate for the host. Food is served in a large communal bowl where it's then scooped with serving spoons to individual bowls.
Serving food is done in a hierarchy with the eldest person first. When offered the last serving of food, you should turn down the offer at first and wait for the host to offer it the second and third time where in this case, you may accept.
When talking to someone older than you, keeping indirect eye contact is a sign of respect. While it could be the deemed as a sign of disrespect in the West, engaging with eye contact in this context is frowned upon in many African nations. Though this culture is slowly fading, it is still practiced by some individuals, and expected by many elders.
In Angola, when talking to an elder, you are supposed to keep indirect eye contact as a sign of respect
Click To Tweet
Now let's focus on our Caldeirada de Cabrito recipe
Cuisine: Angolan
Serves: 6-8
Ingredients
2 pounds of goat meat (cut into sizeable pieces)
5 garlic cloves (zested)
10 oz Chourico sausage
3 medium-sized onions (chopped)
500ml white wine
1tsp Piri Piri sauce
3 chopped tomatoes
3 whole garlic cloves
Salt
Olive oil
Guide
Mix your garlic, Piri Piri sauce, and olive oil in a large basin and add your meat. Marinate it in 4 hours
Sauté the meat for 4 minutes and set it aside
In a large saucepan, arrange the ingredients in this order, onions, goat, pepper, tomatoes, chourico and garlic cloves
Pour your white wine on top
Simmer and cook it for 40 minutes under medium heat. Stir while cooking to make sure it does not stick
Turn off the heat and leave it for two minutes then serve with rice
If you like this Caldeirada de Cabrito recipe, you may also like the following:
---
The perspectives of our community matter in media! It's about our voice,  and taking control of our narratives. Please join and support us!
Visit AfroGist Media channels  often for news updates. Access other thoughts and analyses here, reach out to post your commentaries, and feature your platform.  Watch shows, and participate in crucial conversations that concern us. Connect with the community.