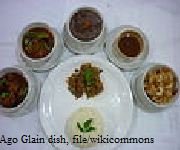 Ago Glain benin recipes is a traditional dish from Benin, which comprises of exotic fusion of traditional flavors. The delicacy is prepared with crab fish, tomatoes, red pepper, and peanut butter to give you a real authentic Beninese flavor. When ready, the dish is served on crab fish shells or ceramic shells. It's particularly great when served along with rice.
The preparation process of Ago Glain is pretty easy to follow, and the ingredients are readily available in most stores. But before we jump right into our recipe, here is a quick overview of Benin culinary art.
Beninese cuisine
Benin is known for its exotic cuisine, which boasts of rich flavors. Most of the dishes are a blend of European and African cuisine. Each ethnic group has its own traditional recipe. Though the dishes may differ, no meal is enjoyed without a creamy sauce. It doesn't matter whether it's a snack, main dish, or a dessert, sauce is a must-have.
Meat is very expensive in Benin, and so most dishes do not have beef, and those with fish and chicken are in low quantities. Meat from rabbit, goat, cows, and pork is also popular.
Benin and Yam Festival in Africa
Maize, tomatoes, rice, beans, couscous, and yams are the main staples. However, yam is one of the most treasured tubers. Like many Black African nations and tribes, the Benin people celebrates Yam Festival. Theirs are mostly celebrated on the 15th August of each year. This celebration is important to most African traditions. It's anchored to their belief in a symbiotic relationship with the divine or the supreme God who makes food available to the people. In Ghana, most community will not eat newly harvested yams unless it's harvest celebration is held, and the king blesses the harvest. Thanking the ancestors for the bumper yam harvest is key.
In Benin, yam festival and celebrations are filled with lots of fun activities, including traditional dances, prayers, praise, chants and animated songs.
Now, let us switch gears and have a look at our Ago Glain recipe.
Preparation: Easy
Serves: 4-6 serves
Ingredients
1 pound crab fish (fresh)
Parsley 1 bunch (chopped)
Black pepper 1tbsp. (freshly ground)
2 tbsp. Dende oil (palm oil)
250 ml peanut butter (unsweetened)
1 red chilli (finely chopped)
Guide
Add water in a large cooking pot and put salt, vinegar, black pepper, and parsley. Place it in a source of heat and let it boil for around 10 minutes under medium heat
As your water boils, wash your crabs thoroughly with running water. Add your crabs, one whole onion, bay leaf, and one whole tomato and simmer for 15 minutes
Remove your whole tomato and onion and set them aside
Leave the mixture to continue cooking for 5 minutes then remove your crabs
Carefully remove the crab meat from the shell and put the shell aside for serving purposes
Put the crab meat inside your lime juice
Fry your onions with dende oil till they are translucent
Add your peanut butter and tomatoes and stir gently for five minutes until you get a consistent thick sauce
Add your chilli and crab meat to the mixture and stir for another 5 minutes
Taste your Ago Glain to make sure the ingredients are well incorporated to your preferences
Serve while hot in ceramic shells or on their own shells along with rice
Ago Glain is one of the dishes you can't afford to miss. Though the name may be hair-raising, with the help of our guide, you shouldn't encounter any challenges preparing yours. Why not try it out and leave us a comment.
If you like Ago Glain Recipe| Benin recipes Cuisine, you may also like the following: