Cornes de Gazelle, a.k.a Kaab el Ghazal is a traditional Moroccan dessert that's so unique in taste, shape, and preparation too. One thing Morocco is popular for, is its exotic cuisine that satisfies the soul, and this treat is not an exception. The cookie has an aromatic flavor that gives your taste buds an orgasmic feeling.
Usually, the dessert is prepared with an almond paste which is concealed with dough and mildly baked. The cookie is then dipped in orange blossom water to give it a rosy and aromatic flavor.
Other ingredients like cinnamon are used to enhance its flavor.
What Makes Cornes de Gazelle Unique?
Cornes de Gazelle features a crescent shape that's so appealing to the eyes and gives the treat a classic look. However, for you to attain these distinguishable characteristics, creativity and patience are key.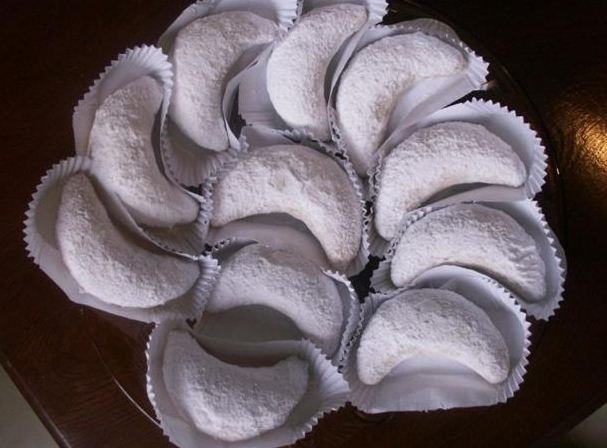 Recommended: Kaak Wark Recipe: A Tasty Tunisian Pastry
Unlike those desserts that you prepare immediately or wait for few hours, Kaab el Ghazal is different. You will have to refrigerate the almond paste for eight to ten days. So, if you are preparing one for an occasion, you need to prepare the paste early.
The almond paste gives the cookie an incredible taste. Though it takes longer to attain this, it's worth the wait. And today, I take you through the baking process from scratch.
But before then, get to know the history of this amazing dessert.
 History of Cornes de Gazelle
Moroccan cuisine is diverse, and today's culinary art was due to interaction with other nations and cultures. Most of the dishes blend Berber, Arabic, Mediterranean, French, and Moorish cuisine.
Cornes de Gazelle has a French influence.
Read Also: Kenyan Black Forest Cake Recipe for Any Occasion
In French Cornes de Gazelle means gazelle horns. And by looking at the cookie shape, it resembles gazelle horns. There is no documentation as to when was the first cookies were prepared.
However, the dessert is popular not only in Morocco but also in Tunisia and Algeria. In Algeria, they call it Tcharek.
Nevertheless, the name, the dessert is special, and its taste is irresistible. Buying one in a local bakery is a little pricey. In most cases, the cookies are reserved for special occasions.
But if you have the time to prepare yours, here is a recipe to guide you. Let's dive in!
Ingredients
For Almond Paste
800 g almond skinned and blanched
2 cups sugar
1 tsp cinnamon
½ cup unsalted butter
½ cup orange blossom water
Pastry Dough
4 eggs
1tsp salt
1 cup unsalted butter
4 cup all-purpose flour
6tbp orange flower blossom
For Dipping
1 cup orange blossom water
-Guide-
  Preparing The Almond Paste
Pour all your almonds into a food processor and grind them into a thick foldable paste.
Add sugar, cinnamon, orange blossom water, melted butter, and almond paste in a basin and mix thoroughly.
Cut a small portion of the almond paste, mold it to form a sausage-like stick, and place it in a tray. Repeat the same for the remaining paste. Cover the tray and refrigerate the paste for eight to ten days.
Preparing Pastry Dough
Put all the dry ingredients in a hand or electric mixer and mix for about three minutes.
In a bowl, cream in the butter and sugar for five minutes and transfer it to the mixer.
Pour the orange blossom water and keep mixing for another three minutes at high speed.
Beat the eggs while mixing at every stage.
Divide the dough into eight portions and cover it for 20 minutes.
Lightly flour your working surface and roll each portion of dough into 1" thickness.
Lay one piece of almond paste sticks on top of the rolled dough and fold it to seal the almond stick, ultimately allowing the dough to overlap.
Repeat the procedure for the left dough and almond sticks.
Molding Your Almond Paste
Mold the concealed almond paste into a crescent-like shape using your fingers. Mold the tips to be narrow and base-wide.
Using a pastry wheel, cut the crescent and make sure the edges are sealed. Place them on a tray or ungreased baking sheet.
Repeat the same procedure for left pieces. Leave the cookies uncovered for about forty to one hour.
Baking the cookie
Preheat the oven up to 1800 C. Bake the cookies for ten to twelve minutes or until slightly brown.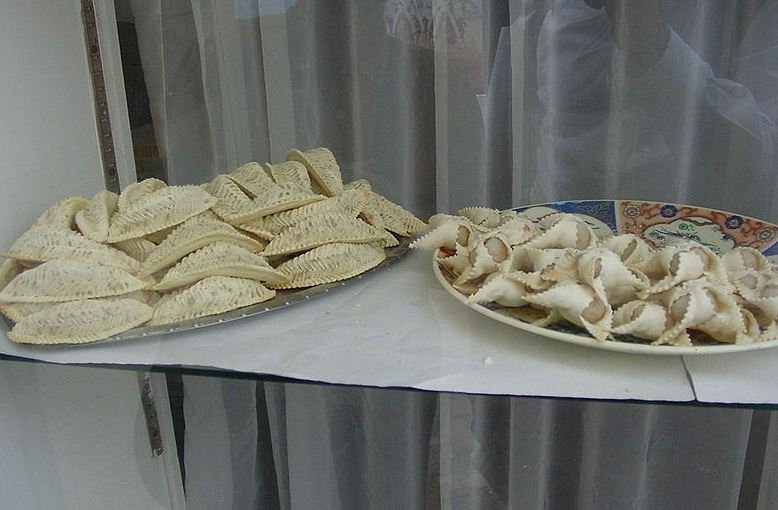 Transfer them into a rack to cool. Before cooling, dip them in orange blossom water. If you don't like the cookie to have a strong orange blossom flavor, you can sprinkle the water instead of dipping them inside.
Roll the Cornes de Gazelle in powdered sugar and enjoy with tea.
Place the remaining in an airtight container. Deep freeze them for several months.