African carrot cake is not like your regular dessert. Normally, the cake has three layers with icing that melts your mouth every time you have a bite. Once you start enjoying this treat, you can't stop. The taste is incredibly sweet, making it a great pick for any event.
The dessert usually uses carrots, eggs, baking flour and sugar. You can use additional ingredients like cinnamon, nutmeg and ginger to give it a twist. Raisins, pineapples are a great addition for giving the cake a natural sweetness.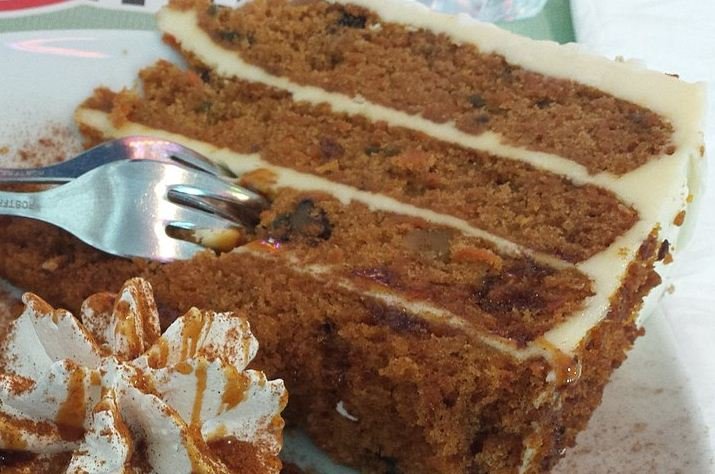 Recommended: Traditional Haitian Cake Baked to Perfection
Knowing how to prepare one can save you few bucks. But before we dive into the recipe, let's have a look at its history.
History of African Carrot Cake
Carrot cake origin is controversial. But the first recipe was prepared in 1591 and was called "pudding in carret", with stuffed carrot and meat. Other ingredients present in modern recipes like shortening, cinnamon, sugar, eggs, raisins, and pineapples were also used.
As time went by, different variations of the recipe evolved. And in 1814, Antoine Beauvilliers included the "Gâteau de Carottes" recipe, which became popular and was copied to verbatim cookbooks.
In 1824 Beauvilliers published an English version of his cookbook in London and included carrot cakes, a translated version of his book.
Later, during the 19th century in Switzerland, the Kaiseraugust School of housekeeping came up with a carrot cake recipe which became popular within Switzerland, especially during kids birthdays.
Though there is no documentation on when the first African carrot cake was prepared, most food historians believe the recipe is from "carrot pudding", popular in Europe, which was later introduced it to the world.
Read Also: Chadian Wheat Biscuits Recipe for Beginners
The recipe improves day by day with some adding other ingredients to customize it to suit their needs. However, the preparation is simple for any rookie baker to attain desired results without breaking a sweat.
And here is what you need.
Ingredients
3 cups all-purpose baking flour
1 tsp baking powder
500g carrots
1tbsp ground cinnamon
5ml Kosher salt
1 cup brown sugar
4 eggs at room temperature
½ tsp baking soda
250 ml cooking oil
200g raisins
225g canned pineapple at room temperature
½ cup granulated sugar
For Icing
Cheese 350g at room temperature
2 tsp vanilla extract
250g powdered sugar
250g walnuts
-Guide-
Wash all the carrots and hands grate them using the small holes of a box grater. Set them aside.
In a separate bowl, sift your flour, baking powder, and cinnamon. Add salt, brown sugar, baking soda and whisk together.
In another bowl, beat your eggs together with granulated sugar in an electric mixer at medium speeds until you get an even mixture. Transfer the mixture you prepared in step two and mix again.
Add cooking oil and continue mixing at medium-low speeds for two minutes.
Add pineapples, raisins, grated carrots and mix until you get an even mixture.
Baking The Cake
Grease three 8" baking pans. Divide the batter equally on the pans and smoothen the top with a spatula.
Preheat the oven up to 1800 C. Bake for half an hour, insert a skewer, and check if it comes out clean. A clean skewer means the cake is ready; if not, bake for another five minutes.
Place the cakes in a cooling rack.
Preparing Your Icing
Put icing vanilla, butter, and cheese in a large bowl. Mix thoroughly with an electric hand mixer.
Add powdered sugar and mix together until well incorporated.
Gather all the cakes and check if all have a flat top. If not, level the top with a serrated knife.
Place one cake on a cake stand or a patter. Spoon a quarter of the icing and add it on top of your cake. Spread evenly and add the second cake on top.
Spread another ¼ layer of your icing and add the remaining cake on top. Top the cake with the remaining icing and spread on top and on the sides evenly.
Press the walnuts gently into the icing on the sides.
Refrigerate the carrot cake until the next day.
NB: if you need your African carrot cake to have an incredible taste, refrigerate it until the next day.