Robert Mugabe, Ex-President of Zimbabwe died at the Gleneagles Hospital, Singapore, Friday 6th September, 2019. He was aged 95 years. His death has already been confirmed by the current Zimbabwe President, Emmerson Mnagagwa on Twitter.
Mugabe, considered by many to be a tough and revolutionary leader was born in Kutama, Southern Rhodesia February 21 1924. He was Zimbabwe's Prime Minister 1980-1987, and later became the President. He stayed in office from 1987-2017.
His early education was through Jesuit Missionary Schools before graduating from the University of Fort Hare, South Africa.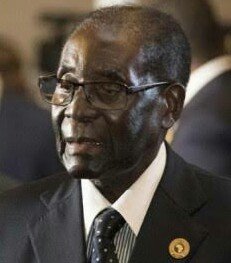 The following radical events in his lifetime will continue to be remembered:
Accepted Marxism and made uncomplimentary anti-government statements that led to his incarceration between 1964 and 1974.
He was officially declared ZANU President August 1977 and participated in guerrilla war against the white minority regime 1975 to 1979.
Mugabe was present at "1979 Lancaster House Agreement" that paved the way for black majority rule.
He took over mantle of leadership April 17 1980 after a general election that his party won.
December 30 1987, Constitution amended and Mugabe became Executive President and Commander-In-Chief of the Armed Forces.
Early 1990s, new land law made it possible for land belonging to white minority to be expropriated and given to black majority. By the year 2000 armed gangs openly attacked and seized white-owned lands and farms.
Between 1995 and 2000, Zimbabwe economy nose-dived significantly, leading to a riot January 1998 on non-availability of food. As at that time about 80% of the population was jobless.
Mugabe relieved Emmerson Mnangagwa of his post as Vice President and tried to impose his wife "Grace" as his successor. This unpopular decision led to a Coupe d'état November 15th 2017 and Mugabe was placed on house arrest. He was however, allowed to resign through a Supreme Court Judgment 2018.