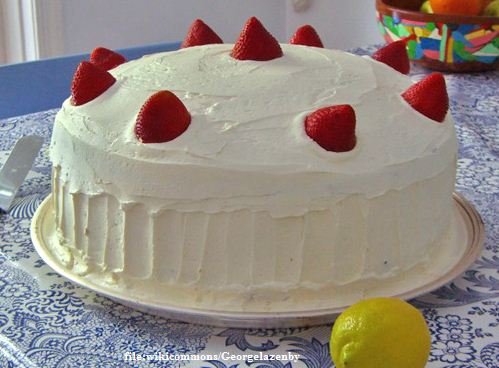 Strawberry cake is a moist layered pastry loaded with fresh strawberries paired with strawberry cream and frosting. The cake is rich in taste and captivating to the eye. The moment you have the first bite, you can't get enough. Its flavor is so satisfying to the soul and tastebuds.
Regardless of whether you are looking for a treat for your birthday, valentines, holiday, Christmas, wedding, get-together, party, or any significant event, you can never afford to miss a spot for this amazing treat. And the best part is anyone can enjoy it despite the age.
Recommended: Kanafeh Recipe| A MouthWatering Ethiopian Pastry
Its preparation is easy for anyone without prior baking skills to pul through without breaking a sweat.
But before we get down to baking, here is a summary of the history of strawberry cake. Take a look!
History Of Strawberry Cake
Strawberry cake dates back two thousand years ago. The first strawberry cake recipe was written in cookbooks in 1588. During this time, the strawberry dessert was served with sweetened cream while hot. It graced most celebrations and significant events in the US.
Later in 1910, French Chefs replaced the recipe with whipped cream. The pastry was introduced in Africa during the slave trade.
Read Also: Chebakia Recipe|Tasty Moroccan Sesame Cookies
Today, the pastry si popular, especially during the summer harvest. On June 14th, the pastry is celebrated in the United States and across the globe.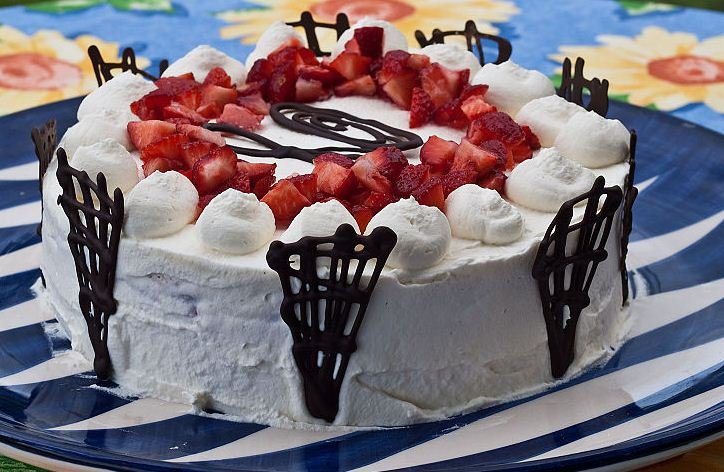 Though the different recipes may vary from the original pastry, the strawberry cake remains relevant in most cuisines. Big events and parties grace their dinner table with this incredible treat.
And today, I will teach you how to prepare a unique strawberry cake like a pro. So pull a chair and stay with me.
Ingredients
6 cups of cake flour
1 cup of sugar
4 eggs at room temperature
1 tbsp vanilla extract
1 cup strawberry puree
6 fresh strawberries (sliced in halves)
1 tsp baking powder
½ cup Chocolate syrup
1 tsp cinnamon
5 ml salt
1 cup of freshly boiled milk
100 ml powdered sugar
Guide
Sift the baking flour in a large bowl—Transfer the sifted flour to a mixer. Add cinnamon, baking powder, salt, and sugar and mix at low speeds.
Melt the butter and transfer it into the mixer. Mix at medium speed for two minutes.
Pour the milk and strawberry puree into the mixer. Mix for another two minutes or until evenly mixed.
Beat the eggs one at a time while mixing at each stage.
Baking The Cake
Grease three 9" round pans.
Divide the batter equally and set it aside. Preheat the oven up to 1800 C.
Bake for half an hour and insert a skewer. If it comes out clean, remove the cakes and place them on a cooling rack for about ten minutes.
Transfer one of the cakes to a platter or flat rounded plate. Apply two to three tablespoons of chocolate syrup and lightly sprinkle the powdered sugar.
Place the other cake on top and pour chocolate syrup. Lightly sprinkle powdered sugar.
Place the remaining cake on top and pour and spread the remaining chocolate syrup on top. Apply on the sides and arrange the strawberries around the cake. Place in a fridge for one or two hours.
Enjoy your cake with juice or a drink of your choice.