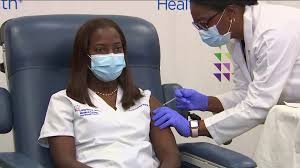 Vaccination mandate contributes to the vaccination exercise and also curbs the spread of the virus. Despite the world returning partly to normalcy thus far, Covid-19 mutations threaten this freedom once again.
Responding to the newly found mutation of Covid-19, Omicron, the New York mayor, issued fresh New York's vaccination mandate. A vaccination order for private sector employers adds to previous mandates given by the mayor. However, it reinforces the efforts of the Key 2 NYC vaccination orders issued in September this year. Though Key 2 NYC received numerous criticisms, eventually it received substantial support.
Do you think the new vaccination directive is too harsh or much-needed? Please stick with us as we evaluate why private-sector employers must adopt it to avoid the consequences.
Vaccination Mandate for Private-Sector Employers
During the recent media briefing on December 6th, 2021, Mayor de Blasio stated that " we have been in this movie before, and we are not going back to 2020". The new vaccination mandate for private sector employers seeks to prevent the widespread of Covid-19 and its variants.
The looming winter, coupled with the holiday celebrations and events scheduled for December further makes the whole picture scary. For this reason, the mayor appeared to have executed this precautions to tackle the widespread of the virus and take responsibility for public health. New York's vaccination mandate for this category of employees aims to protect the city's economy. If done well it could prevent near-future lockdowns.
The city's mayor affirmed that " vaccination works and is the central weapon against Covid-19". In support of this new vaccination order, the department of health set to impose strict measures to enhance its success.
You may also like: Everything You Should do on First New York City Visit
In comparison to the Key 2 NYC, this mandate creates a level playing field regarding vaccination requirements. Key 2 NYC covered indoor dining, entertainment, recreational settings, and indoor gym and fitness. However, this new directive demands that every employer with in-person employees receive their first vaccination dose by December 27th.
Difference between this Vaccination Mandate and others
Key 2 NYC vaccination mandate has been in effect since September. Under key 2 NYC, employees and customers of age 12 and above ought to be vaccinated. Key 2 applied to indoor dining, entertainment, and recreational settings, including indoor gyms and fitness centers. During the recent media briefing by the city's mayor, Key 2 NYC extended its coverage as follows:

Children aged 5-11 years will receive at least one dose of the Covid-19 vaccine by December 27th.
Children of age 12 years and up to have received their second dose by December 27th, except for those who took the one dose of the Johnson & Johnson vaccine
Unlike the Key 2 NYC, which focused on indoor business, the New vaccination mandate extends to every company in the city. Especially businesses with in-person employees.
Litigations Against Vaccination Mandates
New York vaccination mandate for the private sector might attract litigation soon. Previous vaccination mandates -both from the federal and state governments received litigations. For instance, New York vaccination mandated for health care workers got challenged by some medical practitioners for lacking the religious clause and consideration. However, the supreme court recently upheld the mandate, and as it stands, the health care workers who challenged the order are likely to take the vaccination dose to avoid sanctions awaiting them.
The New York City's vaccination order for private sector employers has already attracted numerous litigations. Staten Island attorney Louis Gelormino hinted that they would file a class-action suit for everyone from ages 16-75 years, working in the city.
Check out: Rules for weddings in NYC right now
Keys of New York City vaccination mandate for private sector employers:
This new vaccination mandate targets more than 184,000 businesses in New York city
Employees to show proof of vaccination to the employer or risk losing their jobs
Employers and employees that fail to follow this new mandate risk being penalized $1000
Employers should put measures in place to ensure their employees get vaccinated before December 27th. If an employee has religious accommodation, they should apply in advance to avoid any implications.
The fight of Covid-19 and its subsequent variants requires stringent measures like those issued under the New York vaccination mandate for private sectors. However, many people are not championing this, but the law wins at the end of the day, especially when your source of income is at stake.
We have recently seen other countries going back to lockdown and imposing restrictions again, so this calls for immediate sealing of loopholes to avoid plunging the city back to where it was in 2020. Do you think this is the right move, or the city hall went overboard with this order? Let us know in the comments section. Will you be vaccinated to go to work? If you lose your job due to refusal, do you expect to receive the state's unemployment insurance?
Happy holidays from Afro Gist Media Team!