Pineapple cake is one of those treats you can't afford to miss during the summer season. Its taste and flavor melts your heart and satisfies your sweet tooth. The recipe has a Taiwanese origin and has been part of cuisines across the globe for so many years.
Usually, the pastry contains butter, flour, eggs, pineapple slices and sugar. Like most recipes, pineapple cake is versatile, giving you the freedom to customize it to suit your needs.
Recommended: Banana Oatmeal Cake Recipe| A Healthy Breakfast Treat
But before you could start exploring and adding more ingredients for a more complex pastry, I would highly recommend you try out to perfect our recipe. However, before we get down to baking, let us have an overview of pineapple cake history.
History Of Pineapple Cake
The history of pineapple cake is unknown. But the popular recipe can be attributed to Taiwan's pineapple production, which saw the local bakers utilize the fruit in their pastry back in the 17th century. Compared to the original recipe, there have been advancements and the introduction of more ingredients.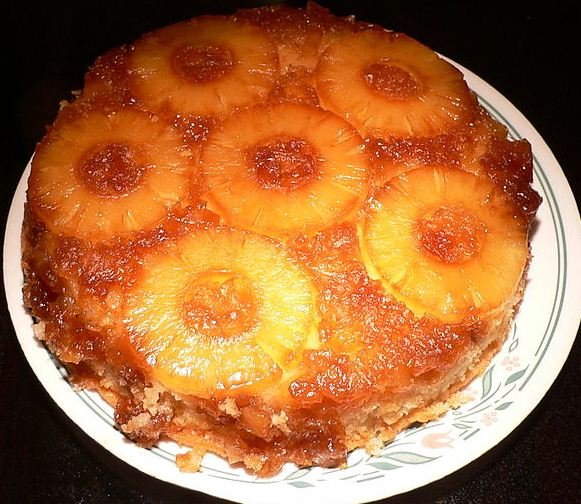 And today, pineapple is prevalent in most countries around the globe, and so is the pastry. The treat is so popular and used as well-wishing presents and engagement gifts.
Read Also: Burundian Date Cake Recipe with Cinnamon Twist
Now, without further ado, let's dive right into our recipe.
Ingredients
2 cans of crushed pineapples
3 eggs
½ cups butter
1 ¾ confectioner's sugar
2 tsp vanilla extract
3 cups all-purpose
1 ½ cup of white sugar
2 tsp baking soda
1 tsp cinnamon
8 ounce cheese cream
Guide
Sift your baking flour twice. Add baking soda and whisk together.
Transfer the flour in a mixer, add cinnamon, and mix at low speeds.
Pour the vanilla extract, sugar, and crushed pineapples along with the juice. Mix at medium speed until evenly mixed.
Beat eggs, one at a time, and continue mixing until thoroughly mixed.
Grease a baking pan and pour your batter. Bake for forty-five minutes or until a toothpick inserted at the center comes out clean.
Place on a cooling rack and prepare your frosting by combining butter, cream cheese and confectioner's sugar in a bowl.
Add a teaspoon of vanilla extract to the frosting, and mix again until creamy. Spread on the cake and enjoy.