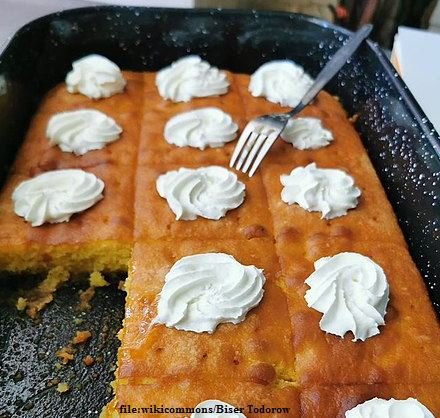 Basbousa recipe is one of the most celebrated desserts across the Middle East, North Africa, and Balkan countries. It is also popular among Muslim and Jewish communities across the globe. Its sweet, fragrant, and incredible taste makes it irresistible. Once you have the first piece, you can never stop.
How Basbousa is Prepared
Semolina is the main ingredient. Pistachio powder, almond, yoghurt, baking flour, and caster sugar are usually added to enhance its flavor.
When ready, the cake is soaked in cold sweet syrup. The syrup may contain cinnamon, rose water, lemon juice, and sugar.
Recommended: Egyptian Umm Ali Recipe: The Unbeatable Dessert
History of Basbousa Recipe
Basbousa recipe is deep-rooted from Egyptian cuisine. Though it's popular across the Middle East, it is part of most culinary arts, including Turkish, Greek, and Azerjabaini cuisines.  
In Egypt, the treat is the main dish during Ramadan and Eid. Despite being popular in Jewish and Muslim communities, it is a go to dish for Christians during fasting.
Basbousa is a popular name not only in Egypt but also in North Africa. In Egyptian city of Alexandria, the dessert is often called Hareesa. However, in Egypt, hareesa is a totally different dessert.
In North Africa, harissa is a hot red spicy sauce. So just in case, you may plan to enjoy this amazing treat in your nearest restaurant, make sure you inquire about the ingredients.
However, you can prepare your treat at home without breaking a sweat. To help you bring the taste of Egyptian cuisine to your home, we have compiled a guide with everything you need.
Read Also: Kaak Warka Recipe| A Tasty Tunisian Pastry
Make sure you don't skip any step to achieve the real authentic Basbousa taste.
Let's jump right in!
Ingredients
4 cups semolina
½ cup caster sugar
1 cup all-purpose baking flour (sifted)
250g plain yoghurt
1 cup of almonds (ground)
5ml salt
½ cup cooking oil
1 tbsp baking powder
Ingredients for Syrup
1 glass water
4 tsp lemon juice
2 ½ tbsp. Orange blossom water or rose water
  1 cup caster sugar
1tsp cinnamon
Garnish
2 oz roasted and finely crushed pistachios
Guide
Syrup
Put sugar, water, cinnamon, and lemon juice in a pan under high heat and bring the mixture to a boil.
Reduce the flame to medium, and boil for about ten minutes.
Remove and let it cool down completely, then add rose water or blossom water and stir to mix.
Preparing Your Basbousa Cake
Combine the caster sugar, salt, almonds, baking flour, cinnamon, semolina, baking powder, and whisk.
Add yoghurt, cooking oil, and mix again.
Grease the baking pan and lightly dust with flour. Pour the mixture and smoothen it around the corners with a spatula.
Place the mixture in a refrigerator for 25 minutes.
Preheat the oven up to 2000C for 20 minutes or until golden brown.
Remove the cake, and pour your syrup while still hot. Spread the syrup evenly and sprinkle the crushed pistachios.
Leave your Basbousa to cool down completely before slicing.