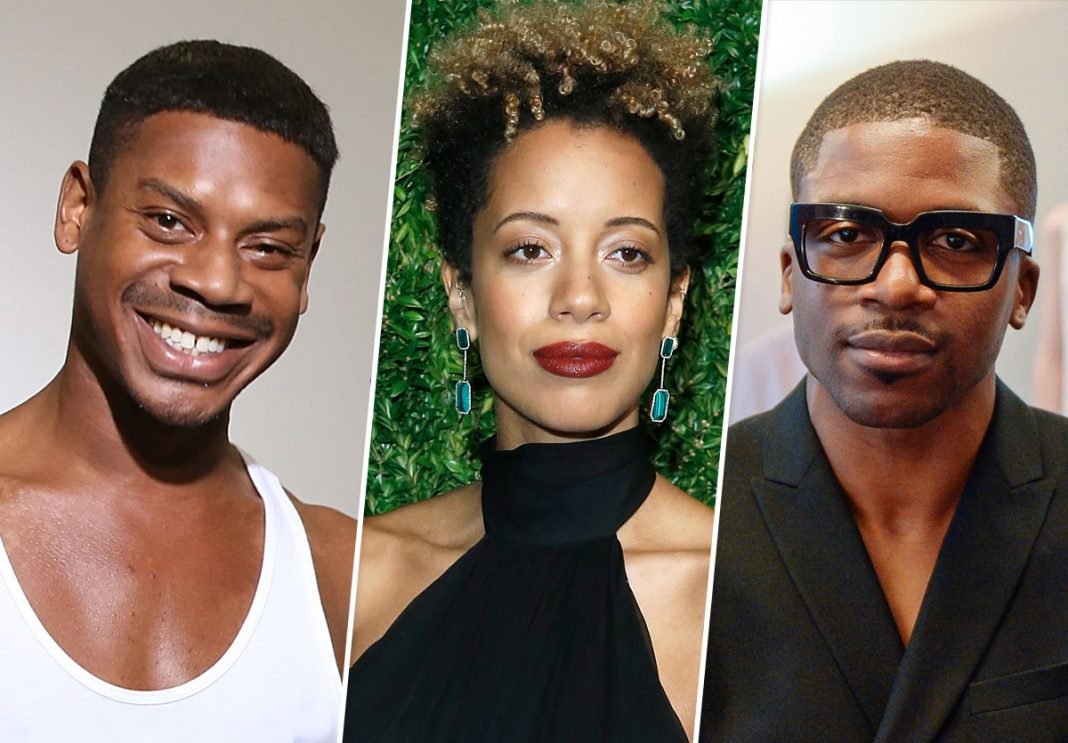 Fashion is a great tool for non-verbal communication and any fashion designer will agree. We are living in an era of injustices and fashion designers have used fashion to condemn the injustices such as racism in our society. This article explores the black designers who have truly made a name for themselves and making their mark in the fashion industry. The fashion designers listed in this article are quickly on the rise and have dressed some of the top celebrities.
Kerby Jean-Raymond
Jean Raymond is the founder and creative director of Pier Moss. Kerby developed collections reflecting themes that read like a checklist of specific generational touchstones throughout his career – he started his first fashion line, Mary's Jungle, when he was 15 — the start of the Iraq War (which spawned a T-shirt line with slogans such "We won't fight another wealthy man's war"), the financial crisis of 2008 and its impact on American politics. During New York Fashion Week, Jean-Raymond made his debut with his presentation of Pyer Moss' Spring 2016 Menswear Collection. The show used film, street art, and fashion to highlight police brutality while also reflecting the Black Lives Matter movement.
I can't wait to see what Kerby has in store next but truly the sky is the limit and I believe he is one of those designers that fashion students will be studying into the future.
Anifa Mvuemba
Fam, sometimes you have to believe in yourself when nobody else can. You are your greatest cheerleader. Mvuemba, who is now famous for the viral 3-D fashion display she debuted in the midst of the pandemic, believed in herself when no one else did. Pink Label Congo is a collection of sultry-yet-sophisticated and occasionally royal garments plainly created to make ladies feel like their most powerful selves. Mvuemba framed the collection as a tribute to her parent's homeland, the Democratic Republic of the Congo.
You May Also Like: 6 Black People Hair Trends Of All Time
Hanifa made a dress for her 21st birthday, yes forever 21 types of dress and it got a lot of responses and the positive reactions motivated her to venture into the fashion industry. She started doing custom orders for friends and family and later launched her brand Hanifa officially in 2012.
Even though Hanifa did not attend any design school, Hnifa has seen growth in her audience all thanks to social media platforms. I would certainly love to see what Hanifa has in store for us.
Laquan Smith
Laquan Smith has been making clothes ever since when he was a teenager. Smith was born in the Queens neighborhood of New York City on August 30, 1988. He became interested in fashion and design as he grew older. When he was 13, his grandmother gave him her old Singer sewing machine, which he used to further cultivate his interest. He started designing and making clothes regularly after that.
Over the past 5 years, his popular clients have included Beyonce, Cardi-B, Jennifer Lopez, and Rihanna. I think Laquan Smith is on his way to becoming a household name in the fashion industry.
Romeo Hunte
Hunte, who has dressed Zendaya and Beyoncé, is all about linking the past and present of design. Because his outerwear is the stuff of roadside dreams, we're confident the abovementioned celebs will be seen wearing pieces from the collection as long as the weather remains chilly.
Cushnie
Graduate of Parsons. One of our favorite fashion labels is Carly Cushnie. With even more bright fabrics and hues in her spring 2019 collection, the wunderkind designer took femininity to the next level after rebranding earlier this year. We're eagerly anticipating her next move.
Read Also: 8 Curly Hair Mistakes For Black Women
Dumebi Iyamah
Dumebi draws inspiration from her home country of Nigeria's hues and patterns. The vivid color accents on each item gracefully match melanin, furthering Andrea Iyamah's objective of being a part of a "cultural story."
Aurora James
Aurora James is an activist, fashion designer, and creative director from Canada. Her fashion business, Brother Vellies, was formed in 2013 with the objective of preserving traditional African design skills and practices. James established the 15 Percent Pledge, a non-profit organization dedicated to supporting Black-owned businesses, in the year 2020.
Brea Stinson
You've probably noticed that life doesn't always go as planned—in fact, it might occasionally turn out even better. Take, for example, Brea Stinson, who once aspired to be a great singer. Stinson has a broad list of accomplishments on his resume. She began her career as a wardrobe stylist, but after a few years, she thought it was time to start designing her own clothes. What was her first big break in the realm of creation? Keri Hilson donned a hoodie on the cover of Fader magazine.
Your Turn: Fam, I know there are many black fashion designers doing incredible work in the industry. From our list who inspired you the most? Also, let us know in the comment section below the ones you think are worth mentioning. Many thanks!