Well, if you have a great sense of fashion, then these 10 trendy African fashion for guys should be on your bucket list. African fashion is deeply rooted in culture and as well being so authentic in its nature.
Modern African fashion has elevated its style, designs, and materials used while maintaining its identity. The beauty of African clothing lies in its versatility. They can be designed to fit any occasion. If you are looking to make a statement and add a unique character to your style then the following 10 trendy African fashion should be added to your Wishlist:
Let's dive in to deconstruct the uniqueness and intriguing touch of the following 10 trendy African fashion for guys.
Men Suit with an Ankara Touch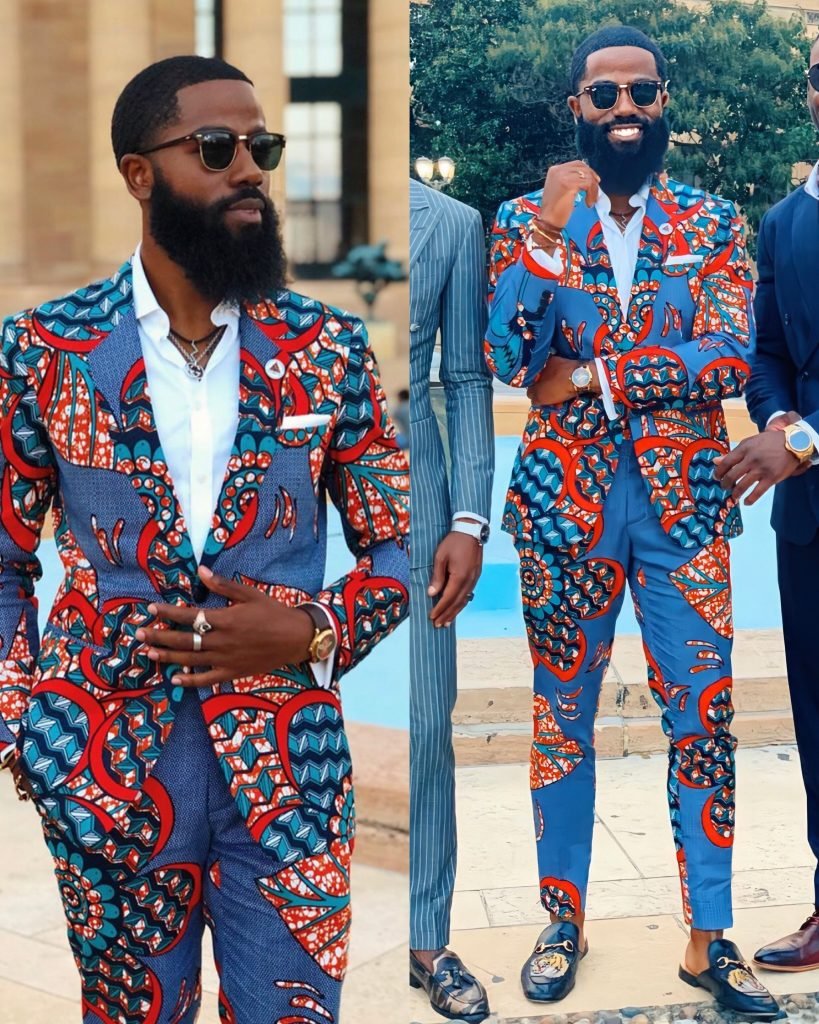 Ankara is a cotton fabric with vibrant and appealing patterns. This suit has the capacity to elevate your look tremendously. It is a norm to wear a grey, brown, black suit for any meeting or occasion and even weddings but have you considered rocking a suit with an African touch to it? A fully-fitting African suit with an Ankara fabric, matched with a perfect shirt will be a unique attire for that evening date or to a friend's wedding.
Pictured Ankara men's suit comes first in our list of 10 trendy African fashion for guys.
You may also like: 35 Things Every Black Man Should do by 35 Years
2 Pieces Set Velvet Suit
If you are not a big fan of a blazer or a coat in your suit then having this 2-piece set velvet suit of any color ranging from blue to maroon can be a great way to show up to an event.
In addition, this style comes second in our 10 trendy African fashions for guys because it has the power to elevate your masculine power effortlessly. The velvet suit is more comfortable and versatile. Further, it can be worn to a wedding, evening parties, and even to work. The right pair of shoes will complement this style further.
Men's 2 set Kaftan
Depending on the color you prefer, kaftan can be found in different colors for men. 2 set kaftan comes with a short-sleeved long shirt and matching pants for it. Preferably wear this with loafers of a complimenting color to achieve a more refined and stylish look.
Read also: Tips to get Smarter Daily
Sweatshirt with an African Touch
Sweatshirts are ideal for that stylish yet minimalistic casual look. A plain sweatshirt can be a cliché but how about a sweatshirt with an African print added to it? Interesting right? We thought so too.
Sweatshirts can have an African map print either with an Ankara fabric or even minimalistic Ankara prints. The Ankara prints add character and a different feel to it. You can rock this to a party or a date with khaki pants or skinny jeans.
Bomber Jacket with African Prints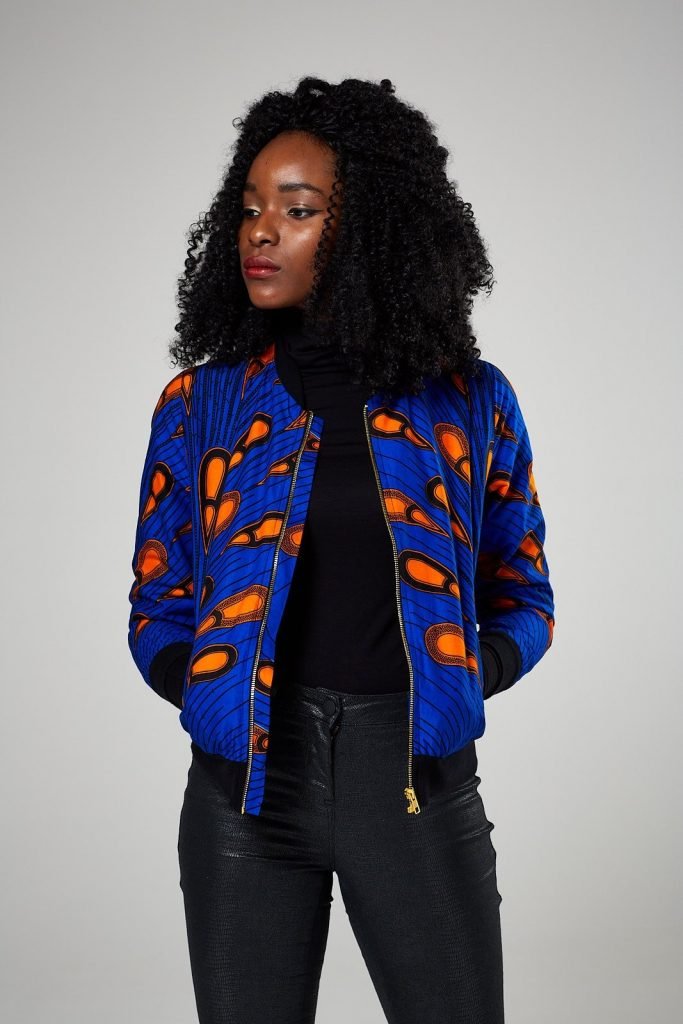 Bomber jackets are not only ideal to keep you warm but also in complementing your fashion game. Bomber jackets with Ankara prints are adaptable and can be worn to any occasion. Either with khaki pants, jeans, or even shorts, this jacket will add that extra vibe to your look. Similarly, it can be casual wear or even worn to the office.
Afro Hoodie
Afro Hoodies are made from 100% pure cotton with an Ankara touch to give you a modernized African look. Hoodies can be worn either indoors or outdoors depending on the weather and the style one is rocking. You can pair a hoodie with a denim jacket to achieve that sleek look. A pair of jeans with boots can also be an incredible look when combined with this kind of hoodie.
Vintage Kente Cloak
Kente cloak is made from Ghanian soft vintage kente. Kente is a Ghanian fabric made of silk and cotton. Traditionally, this kind of fabric is heavily associated with royalty among Ashanti and Ewe ethnic groups in Ghana. No doubt, you going to get that royal feeling whenever you wear this kente cloak.
Based on the above description, kente cloak is one piece you cannot afford to miss in your wardrobe. This piece of cloth will add that royalty touch to your look, allowing you to show up boldly to any event.
Many African fabric stores sell Kente in the US. In New York City, stores like; Yara African Fabric, African Fabrics depot, and many more.
Polo Wax
Polo is for those who love a minimalistic approach to fashion, yet manage to maintain a simple and sleek look. Polo can be regarded as out of touch with fashion but not a polo shirt with an Ankara touch though.
This kind of polo can be matched with jeans, khaki pants, and sneakers to give you that elegant casual look. For a more easy casual look, pair your Ankara-inspired polo with short pants during the summer.
Short Sleeved Shirt with a Matching Short Set
Both the shirt and the short set are made from Ankara fabric. Show up to a pop-up event or a party with this stylish look. Ankara has a rich African culture and symbolism to it, rocking this attire will be a great addition to your fashion game.
The beauty of this outfit is its availability in different patterns. There is a befitting pattern for every man regardless of their fashion needs.
Long Sleeved Shirt and a Matching Pant Set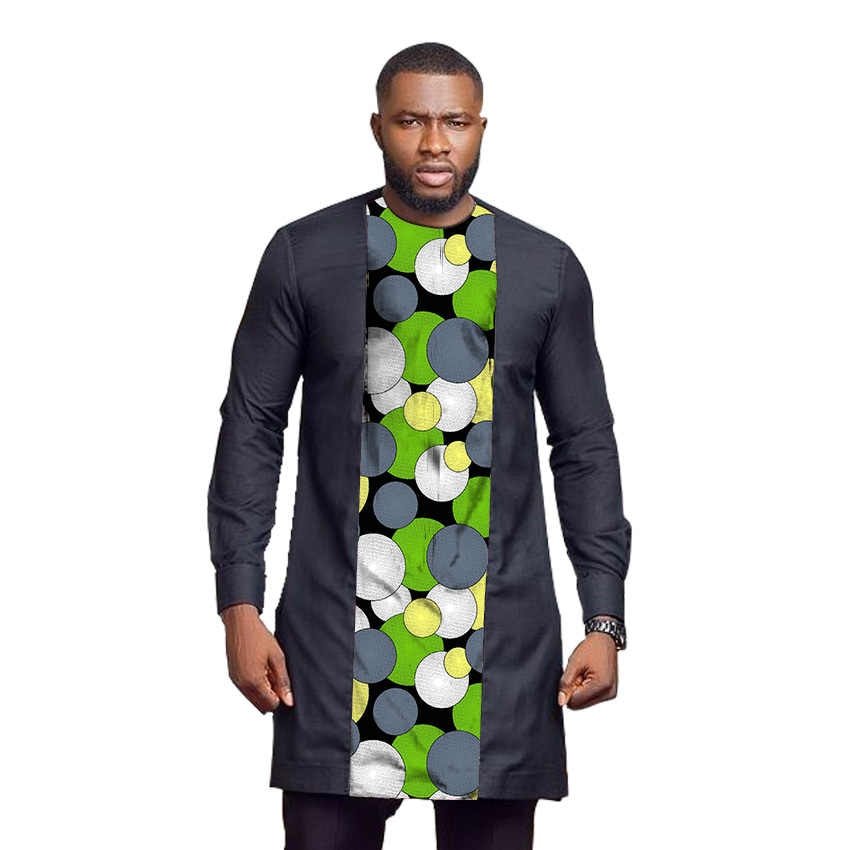 It is time to break the norm of showing up to a wedding in a suit and consider this Niger-inspired look. A long-sleeved shirt and a matching pant set, with bold embroidery of African art, are not only stylish but also prestigious, to say the least. It is a perfect outfit for your wedding or parties and any occasion that dress-up is needed.
Wrapping Up
Every fashion has a story and one that is relatable and inspired by societal trends. The time to experience the richness of the African culture and heritage through fashion is now. There is something for every man who is passionate about African fashion for guys. Let's know what you like in the listed 10 trendy fashions for guys above in the comments section.