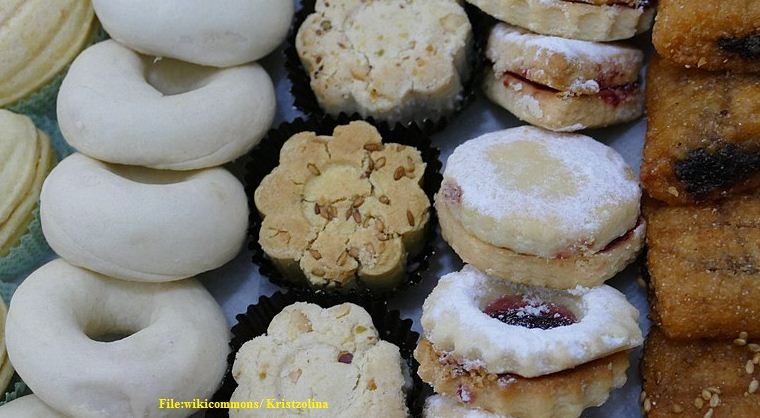 Kaak Warka recipe is a traditional dessert that features a ring shape. Visually, the dessert resembles a donut, only that it is white on the outside and uses different ingredients. Typically, the recipe comprises white flour, almond, butter, sugar, and orange blossom water.
Other recipes may include other ingredients like eggs, milk, and icing sugar to enhance its flavor. Unlike most pastries, which are baked in high temperatures, Kaak Warka is different. Low temperatures are recommended to prevent a change of color.
Recommended: Senegalese Pound Cake with Vanilla Twist
When perfectly prepared, the delicacy is satisfying to the soul. Its unique flavor and subtle sweet taste are enough to lift your moods. No major celebrations in Tunisia are complete without Kaak Warka.
We have done a detailed Kaak Warka recipe to help you bring the Tunisian flavors to your home. But before then, here is a brief history.
Read on!
Kaak Warka Recipe History
Kaak Warka is popular throughout Magreb, especially Tunisia and Libya. Despite being part of major celebrations, the treat is most popular during the holy month of Ramadan.
The dessert is said to have an Andalusian origin. However, there is no documented information as to when the first Kaak Warka recipe was prepared.
Though the recipe looks simple, it is a treasure in Tunisia and beyond. And today, the dessert forms part of Tunisian staples.
Read Also: Bolo Polana Recipe: A Traditional Mozambican Cashew and Potato Cake
Now, let us switch our focus back to our recipe.
Ingredients
3 cups of white flour
1 cup of sugar
2 oz orange blossom water
2 large eggs
10 tbsp margarine (melted)
5ml salt
1 cup of hot milk
100g icing sugar
200g almonds
100ml cooking oil
1 tsp baking powder
-Guide-
Sift your baking flour to aerate it.
Add your salt, sugar, and baking powder and mix together with your hands.
Transfer your flour mixture to a dough mixer. Pour your cooking oil and mix using the low-speed variable.
Pour the milk and continue mixing for about five minutes. Beat your eggs one at a time and mix each time.
Add your melted butter and continue mixing for an even mixture.
Prepare the almond stuffing: mix the rose water with icing sugar and almond, and whisk for a consistent mixture.
Lightly roll the dough and cut it into 5 by 10 cm rectangular shapes.
Scoop the almond stuffing and place it in the middle of each rectangle. Wrap the dough and join the two ends to form a circular ring.
Preheat the oven to 1500 C. Place the shaped dough on a greased baking sheet and bake for fifteen to twenty minutes.
Remove and set aside for cooling until completely cold. Enjoy with coffee or your preferred hot or cold drink.
Kaak Warka recipe is enough to make your guests go gaga! Its incredible taste will leave an unforgettable experience even to those who don't have a sweet tooth. So whether you are organizing a party, wedding, or any other big ceremony, you can't afford to miss a spot on your dinner table for Kaak Warka. It is a great way to show gratitude to your guests.