The candied yams recipe is an African-American side dish cooked to perfection in a brown sugar glaze. The classic Southern dessert touts the flavorful seasoning that gives it an incredible taste. Though you can enjoy candied yams without any accompaniment, they can be paired with other dishes. When paired with roasted or baked meals and topped with oatmeal crunch or marshmallows, the taste is so satisfying to the soul.
Its unique flavor makes them a great addition to your dinner table. Though you can prepare candied yams anytime, there is no Southern holiday feast complete without one—some of the most popular holidays when candied yam recipes include Christmas, Thanksgiving Day, and Easter.
Why Are They Referred to As Candied Yams?
As the name suggests, the main ingredient for the candied yams recipe is Yams. However, in this recipe, sweet potatoes are used instead of yams, but black folks refer to it as the Candied yams recipe. And here is a Netflix documentary High on Hog to explain why.
File: Wikicommons/ 경빈마마
Recommended: Sweet Potato Pie Recipe Demystified| Soul Food
What Makes Candied Yams Recipe Unique?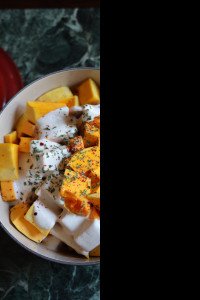 Aside from their unique taste, yams offer amazing health benefits to the body. And among them include:
Read Also: Sweet Potato Vegetable Leaves Recipe, Facts and Health Benefits|African Cuisine
4 pounds yams or sweet potatoes
1 tsp nutmeg
1 tablespoon cinnamon
¾ cups vegan butter (melted)
¾ cup brown sugar
5 tsp Marple syrup
¾ Granulated sugar
2tsp vanilla extract
½ tsp ground ginger
7 cups water
½ tsp ground cloves
2 cups miniature marshmallows (for topping)
Guide
Wash your sweet potatoes in running water properly. Peel and cut them into round wedged sizes and soak them in cold water (to prevent browning).
Melt butter in the cooking pan and add nutmeg, cinnamon, clove, granulated sugar, ginger, brown sugar, Marple syrup, and vanilla extract. Combine the mixture until you get a thick consistent syrup and put it aside.
Add 1 ½ cup of water to a cooking pot and bring it to a boil. Drain the sweet potatoes and add them to the boiling water. Pour the syrup you prepared in step 2 and simmer for 5 minutes. Check if the sweet potatoes are ready. If yes, mizzle the miniature marshmallows and cover for about 4 minutes until fully melted.
Remove the cooking pot from the source of heat and serve your yams.
Store the remaining yams in a refrigerator for three to five days. Avoid leaving cooked yams for more than two hours at room temperature as bacteria grow faster. Discard any cooked yam that were left for two hours between 40 to 1400