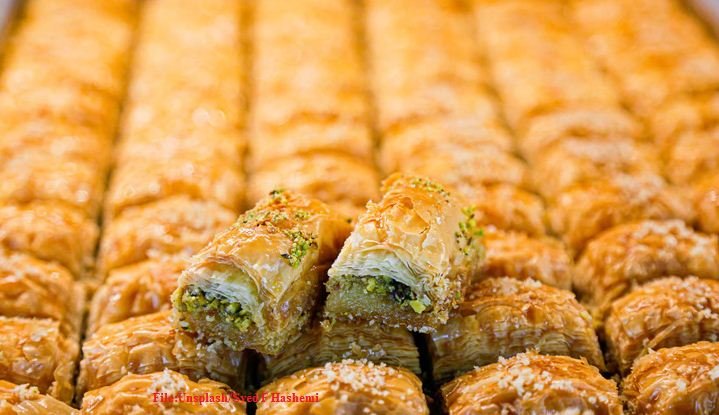 Baklava is a sumptuous dessert that is as sweet as it appears. The delicacy has many variations that differ from one country to another. Though the name may seem ambiguous, it is simply a layered dessert that mainly comprises layers of Phylo pastry, honey, and groundnuts.
Many controversies surround Baklava origin, however, the treat has evolved since the first recipe was discovered.
So, before we get down to cooking, get to know some history of this amazing treat.
History of Baklava
Baklava has been around since ancient times, as early as the 8th century B.C, and is one of the popular treats of Ottoman cuisine. During those times, the dessert was prepared using unleavened bread with stuffed nuts and later drenched in honey before baking in wooden ovens.
The recipe has evolved, and today, different variations are enjoyed across the globe. However, there is no much documentation about Baklava
Recommended: Bolo Polana Recipe: A Traditional Mozambican Cashew and Potato Cake
The modern variation is said to have first been served in Istanbul. This was during the 15th day of Ramadan month in the Baklava Alayi ceremony.
As time went by, more countries discovered this mouthwatering dessert and made it part of their cuisine. Though there is no documentation of the pre-Ottoman origin, the dessert is prevalent in most ceremonies.
Today, Baklava is part of Turkish, Asian, Middle East, Central Asia, Maghreb, Iranian, Levant, Balkans, and Arab cuisines.
When perfectly prepared, this dessert can melt your heart. In fact, Baklava is one sweet that many eat with full acceptance of all the guilt feeling that comes with eating sweet. It is that indulging!
Read Also: Chadian Wheat Biscuits Recipe for Beginners
And here is how to prepare yours.
Ingredients
2 (32 ounces)package of Phyllo dough
1 cup of honey
1 cup of melted butter
2 tsp lemon zest
2 tsp vanilla essence
1 tsp ground cinnamon
1 1/2 cups of sugar
2 cups of milk
1 lb ground nuts
-Guide-
Mix your nuts and cinnamon in a bowl. Unfold the phyllo and cut it in half to fit in the dish.
Cover the phyllo to avoid drying, preferably with a wet towel
Preheat your oven up to 1800 C.
Grease two Phyllo baking sheets with butter.
Place two Phyllo sheets at the bottom and apply butter on the top. Distribute loosely two to three layers of nut mixture.
Repeat the process until you have no ingredients left, finishing with about six Phyllo layers.
Cut the Baklava into 4 rows all through to the bottom. Cut it again diagonally into nine times to make 36 diamond shapes.
Bake for about fifty minutes or until golden brown.
Mix water and sugar in a bowl and bring it to a boil. Add vanilla, orange zest, honey, and lemon zest and stir thoroughly and simmer for twenty minutes.
Top your Baklava with the syrup immediately you remove it from the oven. Let it cool completely, then enjoy.