Pear cake recipe– Sometimes it can be challenging to find a treat that suits your needs. It's even daunting, especially when you have a healthy condition like diabetes. But all is not lost. In this roundup i unveil an amazing pear recipe that is diabetes safe.
And the most interesting part is it's healthy, easy to prepare with easy to find ingredients. For years, the pear cake recipe has been my go to during my grandma's birthday.
It's been over ten years and my grandma can't seem to get enough. Have tried other fruit variations, but the pear recipe melts her heart. And today, I will teach you my secret recipe. Stay with me as I provide guide on tasty pear cake.
Recommended: Pain Amais Recipe- Haitian Pastry
Before we dive into it, let's have a look at the history of pear cake recipe.
Pear Cake Recipe
Pear cake can be traced back to Italian cuisine. The amazing fruit does well on moderate temperatures and tropical parts of the world of South Africa, Western Europe, and Asia.
Just like other fruits, the pear was added to pastry recipes and is known to give amazing results. Today, the famous Italian pastry has become popular across the globe. But, it is not documented when the first pear cake was prepared.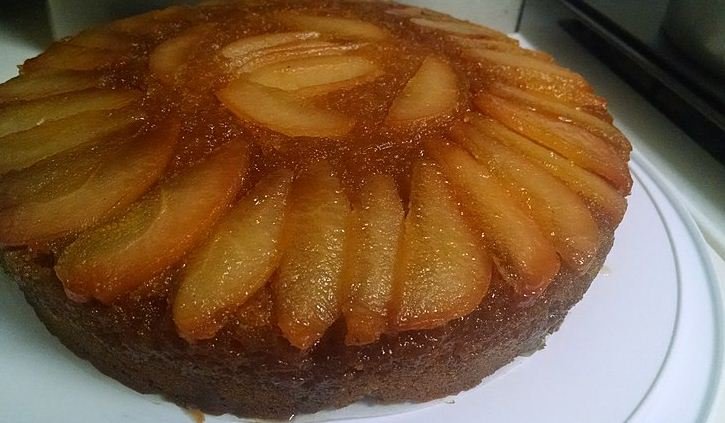 Its taste is so heavenly and a great pick not only for diabetic but also for special events and parties.
Now, let's delve into our recipe.
Ingredients
2 (30 ounces) canned pears (sugar reduced)
2 tbsp confectioner's sugar
1 tsp cinnamon
2 cups almond flour
1 tsp tummeric
½ tsp baking soda
3 egg whites at room temperature
1 large egg
5ml Sea salt
-Guide-
1. Drain the pears and place the pear pieces on a chopping board. Chop them to your desired shape and transfer into a bowl. Beat all the eggs and whisk together with pear pieces.
2. Pour your almond flour, and add turmeric, cinnamon, and salt in a mixer. Beat the mixture at low speeds for three minutes. Add the pear and eggs mixture and continue mixing at medium speeds for another three minutes.
3. Add a cup of water and beat for five minutes until the batter becomes bubbly.
4. Grease a 9" baking pan and pour the batter inside. Bake for fifty minutes at 3500 F until a skewer comes clean when inserted at the center.
5. Place on a cooling rack and dust with confectioner's sugar. A perfect pick for a birthday party.