If attending a black college has been a thing for you or your family member, then you will agree that finding the perfect one can be quite a task. This is due to the many options offered by over one hundred black colleges in the United States.
To help in your decision making, we have researched and narrowed down your options to just five. From our findings, these five colleges have proven to be outstanding with numerous feats spanning hundreds of years.
5 Top Black Historical Colleges
Below are our top picks of the best black historical colleges in no particular order.
Howard University (HU)
Howard University was established in 1867 by Oliver Otis Howard. This was to enable the newly freed individuals to have access to education.
Why You Should Consider Going There:
Recommended: Essential Trends You Didn't Know Were Influenced By Black and African Culture
1. Highest Number of Black Doctors in the US
HU currently produces the highest number of African American students who are studying medicine in the United States.
2. Achievement and Recognition
Over the years, HU has garnered various laudable achievements. This is due to its excellence and high academic standard as a black college. Below are some of the achievements:
It is the college with the highest number of African American undergraduates. Not just any graduate, but ones who later go on to earn PhDs in natural sciences.
HU has also been ranked No. 34 on U.S. News.
According to Princeton Review, HU's School of Business offers the "greatest opportunity for minority students."
Also, HU's School of Law is the No. 2 law degree producer for African Americans.
2. Spelman College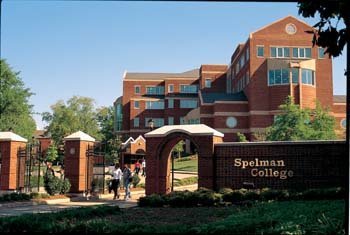 Spelman College, formerly known as Atlanta Baptist Female Seminary was founded in 1881. It is currently a global leader in female education. Its students base cuts across more than 42 states in the United States and 10 foreign countries.
Why You Should Consider Going There:
You may also like: Famous Black Celebrities: You Didn't Know These 8 Famous People Were Black
Spelman College has an incredible 76% graduation rate (average over six years).This is one of the best in the United States.
This college is decorated with award-winning professors and lecturers. Looking at the school's accomplishments, one needs no further convincing to attend it. If for some reason you could not go, make sure a family member does.
Hampton University
Hampton University is home to many black celebrities. If this is a thing you fancy, then go for it. It would actually be great to follow in the footsteps of your idol!
Why You Should Consider Going There:
The celebrities are doing well in their respective areas of specialty and they are testaments to the excellence of Hampton University. It should be quite an honor to pass through the four walls of Hampton University.
Xavier University
Xavier University is yet another harbor for various African-American monuments. It is a historically black college with about 70.2% retention of its African American student body.
Why You Should Consider Going There:
1. Internationally Renowned
Xavier University's rich black heritage is a source of attraction to many students from various countries of the world. Traditionally, Xavier has one of the largest gatherings of black scholars in the world. Here, blacks intermingle, reminding themselves of their black heritage.
Though historically a black college, Xavier, of course, does not restrict its attendance to blacks alone. Its walls witness the coming together of different races and colors. Xavier University does not limit your experience to only black heritage. Rather, it also allows you to mingle with students from other races.
North Carolina Agricultural and Technical State University
North Carolina Agricultural and Technical University has a very supportive alumni association. Over the years it has granted many of its high-performing students scholarships.
Why You Should Consider Going There:
Elitism
If elitism is your thing and you find it in the following names, then you may have found your college! Ever wondered what it would feel like to join an alumni association with the likes of Harold L. Martin, Ronald McNair, Jesse Jackson, and Franklin McCain?
You can imagine the strength of this alumni association. Now, just imagine these folks sponsoring a vision for the next generation of young Blacks.
Conclusion
The Black achievers these universities have produced so far, are assets to the world of pan Africanism. The lessons they garnered here are still guiding them in life. So, attending these world-class universities would not only earn you a certificate after graduation. It would also enable you to connect with our rich African heritage as well as give you a sense of belonging.