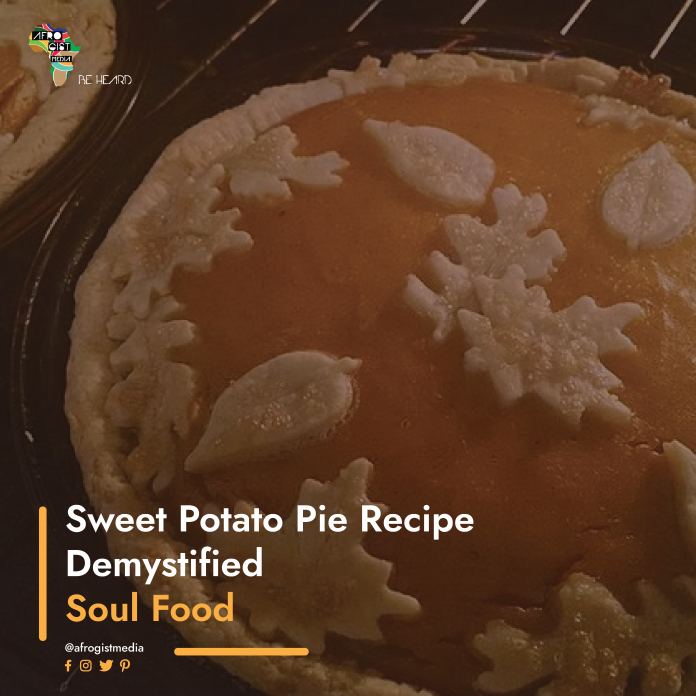 Sweet potato pie recipe for any occasion. Sweet potato pie is a tasty dessert popular among the African American community. The dessert graces dinner tables, especially during special events like Christmas and Thanksgiving Day. However, you do not need to wait for these holidays to enjoy this amazing treat.
Read Also: African Sweet Potato Cake Baked To Perfection
Normally, the pie is prepared with an open shell without the top shell. The upper part is topped up with cream to enhance its flavor. If you have a sweet tooth, you cannot afford to miss out on trying this lip-smacking sweet potato pie.
File: Wikicommons/ Hungry Dudes
Whether you are looking for a dessert for a family gathering, holiday celebration, birthday, or a weekend dinner, this amazing treat never disappoints. It is a great alternative for your regular pie or pumpkin pie.
Besides its heavenly taste, the dessert is also loaded with nutrients making it a nutritional powerhouse. And below is a lowdown of some of the benefits of sweet potato pie.
Benefits of Sweet Potato Pie Recipe
Rich in iron which aid red blood cells carry oxygen
Has vitamin A which is great for eye health
An excellent source of Vitamin C which boost immunity and energy levels
Rich in potassium which helps control blood pressure
Low in glycemic acid, which helps regulate blood sugar levels
Has beta carotene, which is good for the skin
Good source of calcium and helps promote healthy bones
You May Also Like: Sweet Potato Vegetable Leaves Recipe, Facts and Health Benefits|African Cuisine
Sweet potato pie dates back to the early colonial period. The recipe appeared in cookbooks in the 18th century as savory vegetable dishes. Later in the 19th century, the recipe got classified as dessert. And for years now, sweet potato pie has been part of African American Cuisine.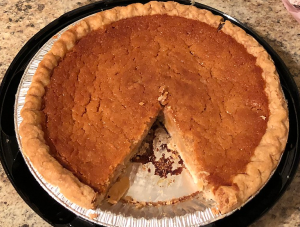 File:Wikicommon/ Farmartin
The legume was introduced to Americans by enslaved Africans as an alternative for yam. The ability to use sweet potatoes in different dishes gave birth to diverse cuisine celebrated across the globe.
Now let's switch our focus to our recipe.
Ingredients
2 – pound unpeeled sweet potatoes
1 stick butter
1 tsp salt
2 large eggs (at room temperature)
2 cups of whole milk
1 tsp nutmeg
½ cup granulated sugar
2 tsp vanilla extract
¼ cup brown sugar
½ tsp cinnamon
3 frozen 9" pie crust shell
Guide
Clean the sweet potatoes properly in running water or in a large basin. Rinse well and peel the outer skin. Cut them into small chunks and bring them to boil under medium heat.
Soften the butter and transfer it into a large bowl as your potatoes are cooking. Add all the sugar and cream in with the butter.
Drain your sweet potatoes and mash them. Transfer them into a blender and blend them into a thick consistency.
Pour the blended potatoes into the sugar and butter mixture. Add cinnamon, milk, salt, nutmeg, and vanilla extract. Combine thoroughly until you get a fine consistent mix.
Beat the eggs one at a time while mixing at every stage. Once done, pour the mixture into the three frozen unbaked pie shells.
Preheat the oven up to 350 degrees and bake for 90 minutes.
Place it in a cooling rack to cool down to room temperature. Top it with whipped cream and enjoy.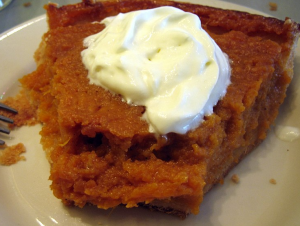 File:Wikimedia/ Ernesto Andrade
Store your pie in a refrigerator for up to 4 days.
Give your family a special treat with this sweet potato pie recipe and share your experience.