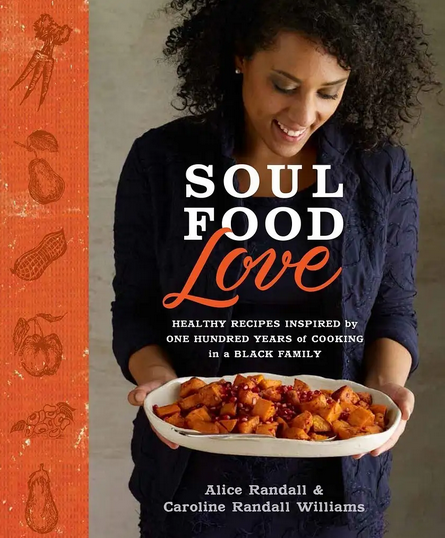 Soul food love: Healthy Recipes Inspired by One Hundred Years of Cooking in a Black Family
By Alice Randall and Caroline Randall Williams
Soul food love cookbook is a story of five kitchens from five generational women who prepared and ate soul food for entertainment, comfort, and survival. The book is co-authored by an award-winning American Author, Academic, and Poet Caroline Randall, along with her mother, Alice Randall.
Alice and Caroline depict their story from the pain and struggle these women endured to bring a meal to the table. But one thing that inspired them to write their book is the unhealthy cooking styles passed from generation to generation.
And before I take you through the book's content, get to know how the Soul Food Love cookbook was born.
Where Soul Food Love Started
In 2012, Alice Randal wrote an article Titled Black Women and Fat which was featured in New York Times. Her piece was from an observation she made from black women. According to Alice, most black women are obese, which she attributed to the food they eat.
Read Also: Tasty Cornbread Recipe for Black Folks| Black History Month
This called for a change in how blacks prepared meals, ate, and fed their families. From the book, Alice flashbacks on how her cooking styles and consumption of soul food delicacies contributed to her weight gain. And for many years, these cooking styles and recipes have been passed from generation to generation.
After carefully observing how culinary history is hurting her and her fellow black women, she made a goal to be the last fat black woman. She wrote a cookbook, "Soul Food Love," which featured 80 healthy soul food recipes. She also went ahead and shared tips for those keen on living healthier or lose weight.
Their cookbook won an NACCP Image Award in Literature in Feb 2016.
Re-inventing Soul Food
Alice and Caroline re-invented new ways of cooking and enjoying soul food. They traced back the roots of the ingredients and cooking styles that blacks adopted and re-introduced healthier cooking styles and dishes.
Claiming Back Health with Food
Randall's family had a history of being obese. And it was not her wish for her daughter to go through the same. To achieve her goal, she started her journey to reclaim health with food. She replaces all the unhealthy foods with healthy recipes.
You May Also Like:Black Vegan Chefs: 10 Iconic Culinary Chefs Causing Disruption in The Industry
With the help of her family experience, creativity, and culinary skill, Randall goes ahead and translates dishes passed on to generations by black women into healthy delicacies. These dishes include black-eyed peas, sweet potatoes, Peanut chicken stew, brown rice creole salad, sinless sweet potato pie, and fiery green beans among others.
Re-Discovering Healthy Cooking Styles
In the book, Randall recommends exploring spice racks, and embracing natural herbs to add your delicacies some flavor. They went ahead and analyzed cooking styles like frying, baking, and roasting to help blacks adopt healthier cooking styles.
They also feature the en papillote, a French cooking method that involves steaming fish wrapped with parchment paper. In their book, Alice and Caroline recommend using foil instead of parchment paper and fish topped with fresh, natural herbs for a healthy savory dish.
Their mantra is to customize recipes for healthy food. Though they know that the change may not happen overnight, embracing healthy foods and cooking styles is a step to managing weight and living a healthier life.
Their recommendations also extend to cocktails. According to Soul Food Love cookbook, alcohol mixers are not your friend as the drinks are high in sugar and dye. Instead, you should go for fine spirit or wine.
Overall, the Soul Food Love cookbook is a great read for those who are looking for healthy recipes and natural ways to keep fit. Give it a read!