Whatever you wear is a representation of who and what you are. However, as a plus-size, it can be quite a challenge to find the perfect wear that matches your style confidence. It is important to embrace comfort when it comes to how you dress. Sometimes, it's natural to feel left out because your body does not complement a specific dress, but every problem has a solution; all you have to do is to figure out what works and see the best in yourself.
As a plus-size, your body is replenished with treasures that can only be appreciated if you are confident in it. Don't drag yourself into baggy clothes. Instead, embrace your curves with clothes choices that show off your best assets so you can feel more comfortable in your skin.
These tips will help you flaunt your natural endowment, glow and look fabulous.
Be Particular About the Choice of Fabric
Choosing the right fabric is more important than you think. Yes, you can fabric that looks good on your friend, but when you wear it, it does no justice to your look. And this is something you should look out for; you can pick a fabric with a bit of stretch or spandex. This will your clothes adjust to your fit and shape and give a snatch look. While clingy fabrics can be quite stiff and unappealing to your body size or shape.
Experts in clothing material, Mary Ellen Roach and Joanne Eicher find that our clothes are one of the main ways we send social signals and portray identity.
Let your Waistline do the Trick 
Contrary to popular opinion, showing off your waistline is one way to flaunt your body as a plus size. This helps accentuate your curves and gives a defined silhouette. Something as simple as a high-waisted skirt might just do the magic, make you snappy, and highlight your hourglass shape.
Have Your Way with Patterns and Prints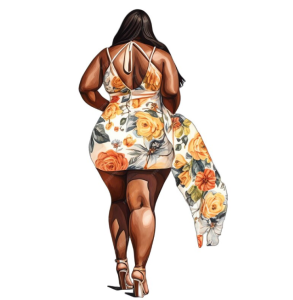 Don't be overly conservative to make your way with prints and patterns. It is an unpopular opinion, but plus-size women can wear bold prints, too. Beautiful icons like Natalie Hage, Hayley Stewart, and Queen Latifah have highly engaged the fashion world with chubby models. Whether you are petite or have a height, be sure to pick a pattern that flatters your body and makes you unique. Scientifically, it is proven that plus-size people tend to sweat a lot due to the nature of excess fat in them, which is why your choice of clothing matters.
Get Creative with Accessories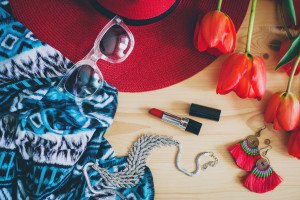 How other way can you add personality to your outfit without accessories? Stylish accessories make you look elegant and call attention to the important details. Necklaces, earrings and bracelets all add a pop of colour and meaningful fashion taste to your body size. Don't ignore the likes of hats and scarves. They pull your outfit together and give you an astonishing look.
Good Undergarments Make a Difference
Plus-size women rarely find an undergarment to fit their size, especially if you are a bit bursty. But that should not be a struggle but a flex. Get a professional to measure you up to size if need be. Wear your confidence on your sleeve; in it lies your self-esteem, which directly spotlight the radiance of your beauty.
A wrap
Getting the right fit or dress to wear can be a breeze. Whether you are petite or tall, these simple tips style your size with confidence. Flaunt your natural endowment with a good fabric of choice, play with prints and patterns and never forget to add a touch of personality with accessories.