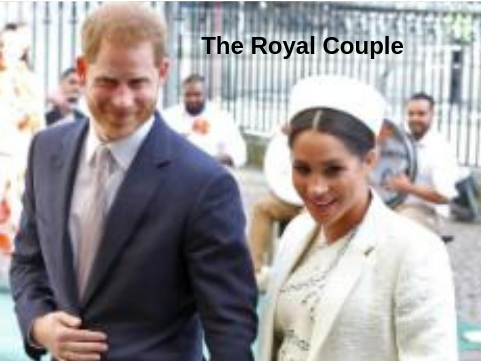 You've probably seen a fairy tale movie where a princess met her true love — her knight in shiny armor, a crowned prince.
Well, fairy tale stories may be true and not just a mere fantasy.
On the 19th May 2018, Prince Harry married Meghan Markle and showed the world that fairy tale love stories do come alive. And their love life has been a journey of genuine happiness and joy.
In the next couple of weeks, the couple would have their first child.
Fascinating! Isn't it?
The cry of a child in the royal house wouldn't just be great news for the people of Sussex; it'd be welcoming news in the world at large.
Goodwill messages would be flying into the royal home, and lots of regular folks would take to social media to celebrate with the royal couple.
Everyone across the globe would feel the royal aura as it permeates through our minds with the news of royal birth.
Pleasant indeed, but there's more…
A royal birth would be excellent news for the African people.
Why?
Because it means that the couple would probably move to Africa to spend some couple of years with the African people.
That's wonderful! Isn't it?
There are plans on the ground by the royal family to move the royal couple abroad after the birth of their child.
Moving the royal couple abroad would enable them to play a major international role in the desired destination — Africa being among the places where the royal couple would probably go.
Here's the thing, the royal couple seems to be looking for avenues of building more work for the commonwealth. And by residing in Africa for a couple of years, they could make more significant progress in their work.
Although plans are rolling out, their relocation plans would not be finalized until 2020. Therefore, a decision is not expected until 2020.
By 2020, the royal couple must have raised their child at home. Also, the tender child would be quite strong to travel out.
Yes, the royal couple may be touching Africa soon, but the journey to Africa is not certain — no one is quite sure of the next move.
Furthermore, the Duke of Cambridge, William is known for being supportive of Prince Harry, and as usual, he would support any route his brother decides to take in the future.
If the couple decides to move to Africa, there are a couple of countries which may be a good fit for them. Countries like Nigeria, South Africa, Ghana, and Uganda would be a great choice.
The couple is known for breaking some of the royal traditions. One of which is not publicizing the details of the baby's arrival.
Amid the ethnic divide in most African nations, Africans are known to be peaceful folks and living with the royal couple on African soil would be historic.
Which commonwealth country would you love the royal couple to move to?
Affiliate Disclosure: USAIG participates in several Affiliate Associate programs. An affiliate advertising program is designed to provide a means for sites to earn a commission and sustain. We may get a commission when you, our distinguished visitors buy products through our links. Your patronage will assist us in conducting more research and paying the bills to keep the website running. USAIG cares!
---
The perspectives of our community matter in media! It's about our voice,  and taking control of our narratives. Please join and support us!
Visit AfroGist Media channels  often for news updates. Access other thoughts and analyses here, reach out to post your commentaries, and feature your platform.  Watch shows, and participate in crucial conversations that concern us. Connect with the community.