If you grew up in a Christian environment, you know the importance of forgiveness according to scripture. But if not, you may see snide contempt, anger, and mayhem as the right way to get back at someone.
Are you overwhelmed by the weight of a painful situation? Broken and hurt?
I share your burden, friend. I had an experience where a friend deeply hurt me, and I wanted nothing more than revenge.
But Jesus is calling Mathew 11:28
Holding on to beef is like poison; it eats you up slowly.
The worship scene in 'Beef,' where Steven Yeun co-stars as Danny Cho, unconventionally finds his way to church after deciding revenge, proves Jesus is always calling, but we are too busy to yield. "O Come to the Altar" is one of my all-time favorite worship songs, and I was surprised to hear it on a hit Netflix "Beef" series. Another proof that Jesus is calling.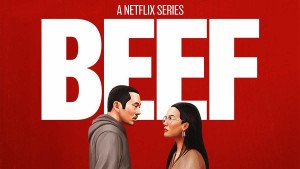 This is not just about the show being a hit but about how the story sets a pedestal for forgiveness. The entire church scene seemed familiar, except it was on the big screen this time. The camera panned the room to reveal congregants with raised hands and closed eyes, ready to surrender the weight of their burden. It was a rhythmic and soul-lifting experience. During the communal worship, Danny gets soaked in tears, and a minister spots him and prays over him. This reminds us that God's grace extends to us even in our brokenness. The sanctuary, the welcoming church community, the snacks after service, and Danny joining the worship band were all too relatable.
A Tale of Two
Danny Cho, a struggling contract worker, and Ali Wong, who co-stars as Amy Lau, a successful entrepreneur, both vow revenge on each other after a road rage event. It was the genesis of their beef that eventually led Danny to church. Danny and Amy struggled to get back at each other, with Danny having a hard time with his job and Amy's reputation being affected by sabotage. Retaliating with revenge is toxic and causes you to lose your sense of self and peace of mind.
The worship scene in the show triggered many intuitive responses, as believers could connect the story to faith, forgiveness, and redemption. It brought a spiritual awakening that forgiveness heals hurts and brokenness towards oneself and others.
Bottom line:
Don't reciprocate the weight of your hurt with revenge. Let go and surrender your burden to Jesus at the altar. He is waiting to receive you! If you are yet to see Netflix Beef, you should because it embodies vital lessons regarding life and spirituality.