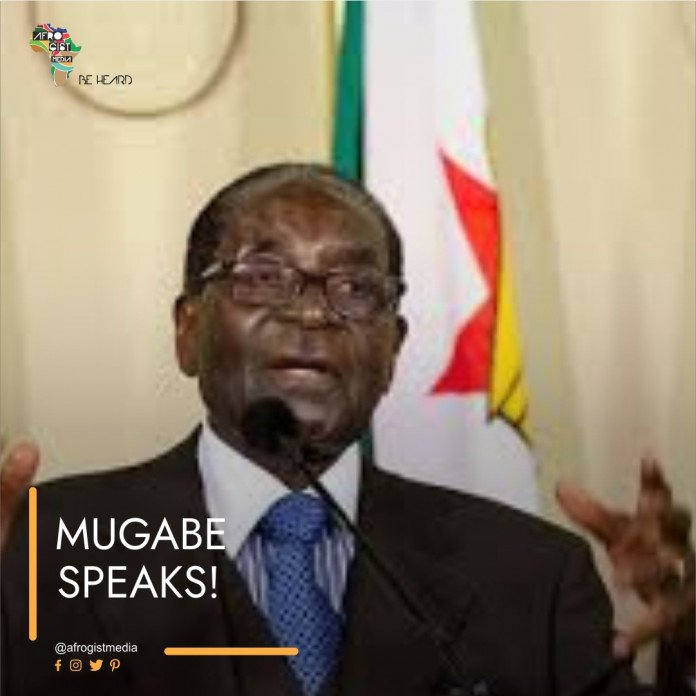 November 20, 2017
By Staff, "The Gist"
Last night, in his first speech since his house-arrest, Zimbabwean president Robert Mugabe called for reconciliation, but never mentioned resigning.  Despite a November 16th tweet from the Zimbabwean government's official account, stating that Mugabe would resign and his former Vice President, Emmerson Mnangagwa would be installed as the interim president  (interestingly, that tweet is no longer available on Twitter), Mugabe appears to be staying on…
"We cannot be guided by bitterness or vengefulness, both of which would not make us any better," said Mugabe, seated at a table amid Zimbabwean military and political leaders. "The government remains committed to improving the social and material conditions of the people", ending the rambling speech with "I thank you and good night", without a mention of his future as president of the country.
The Zimbabwean army said it would make a statement in response to the crisis triggered by Mugabe's refusal to go. There are reports that military chiefs and senior figures in the ruling ZANU-PF party have been examining ways in which they can punish the Mugabe family and seize the assets they accumulated over the last four decades.
Meanwhile, ZANU-PF will discuss the impeachment of President Mugabe, after the expiration of today's deadline for him to resign – which Constitutional experts say, ZANU-PF has the numbers and could push it through in as little as 24 hours.
Following are some of the resolutions that will be addressed in the political party's leadership discussion;
1. Thanking ZDF (Zimbabwe's Defense Force) for bring Normalcy in the party and Government…caused by the cabal around President Mugabe.
2. Thanking and congratulating those who participated in yesterday's ZDF Solidarity March
3. Calling for President Mugabe to step down by tendering his resignation from his position of President and 1st Secretary of the party and head of State of Government and Commander in Chief of the ZDF failure of which the party will recall him or institute parliamentary procedures.
4. Calling the Women's League Secretary Grace Mugabe to Step Down.
5. All those expelled after 2013 General Elections by the G40 Cabal to be reinstated.
6. Members of the G40 cabal to be expelled.
7. After Recalling President Mugabe and VP Mphoko , war Vets Association has resolved that Cde Emmerson D. Munangangwa be appointed President and 1st Sec of the Party.