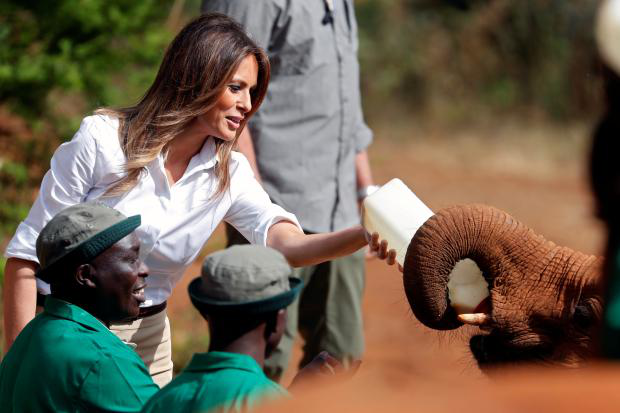 Is Melania Trump Sending A New Message?
Melania Trump's Africa visit has been welcomed with mixed feelings — we don't know the real intent of her visit.
Her visit to her husband's list of shithole countries seems to be a new message to the African community — a message that contradicts the action of the present administration.
In Ghana, Mrs. Trump lay a wreath at the Cape Coast Castle where trans-Atlantic merchants transported slaves to an unknown life in another country far from home.
Afterward, Mrs. Trump promised never to forget the untold hardship of slaves.
However, back in the States, her husband is keen to silence African Americans who knee to protest against the police brutality to the black race in the nation.
In Nairobi, Kenya, Mrs. Trump had an entertaining time with a herd of baby elephants.
Also, her activities were in contrast to the actions of the President's two sons when they had a hunting trip in Africa, or the strong message president Trump sent when he lifted the ban on the importation of elephant trophies — Again one family sending contradicting message to the world.
Her visit to Egypt, an African country with a high population of Muslims is a visit that carried a wave of mixed feeling.
Her husband placed a ban on the Muslim community. But here is his wife paying a visit to them.
In Malawi, Mrs. Trump paid a visit to the Chipala Primary School where she got a feel for the African educational system, and how the education sector in most African countries are poorly funded.
She made a brief remark about the USAID's reading program. Also, she gave out some Be Best tote bags to the teachers.  
The True Intention Of Mrs. Trump's Visit
No one knows her true intent of choosing Africa for her first solo international trip.
But from her visit and expressions, we can say that Mrs. Trump has the desire to change the narrative of the present administration.
Responding to her husband's alleged shithole comments, Melania Trump said that no one brought up the issue during her visit, and she never heard her husband made such remarks.
The visit could also serve as a platform to build herself as a great global diplomat. And she can use the opportunity to promote programs like USAID across Africa.
Also, she could see it as an opportunity to spread the message of Be Best — a platform where the First lady caters for the wellbeing of children.
Although she may have visited Africa with good intention, her husband's actions are sending a different message among Africans.
Furthermore, Mrs. Trump believes that the present administration cares, and they are willing to show it to the world.
One notable thing about Mrs. Trump's visit to Africa is her choice of clothing. On her Safari in Kenya, Mrs. Trump opts for a pith helmet outfit — the helmet which the white colonists wore during the 1990s.
That's a wrong way of sending the right message. And during her visit to Egypt, all we could all think of were the good old movies like Indiana Jones.
Mrs. Trump's actual intent may be right, or not. But what the African community genuinely want is for the real African story to be told.