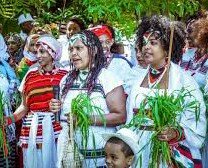 The Oromos considered to be the largest ethnic group in Ethiopia (about 34.5 of the country's population – Wiki) celebrated Irreecha or Irreesa thanking "Waaga" (God) for blessings received in the previous year and expected bountiful harvest at the end of the rainy season.

Bishoftu, 40km south of Addis Ababa where the celebration took place was colorful with traditional wears and traditional dancers showcasing the beautiful cultural heritage of the Oromo people.
The eve of the celebration was held on Friday October 4 2019, and it witnessed unprecedented crowd. The crowd even doubled Saturday October 5th 2019 when the actual celebration took place.
Most Oromos in Diaspora even traveled home to take active participation in the event following the level of assurance on peaceful celebration projected by the Oromo Regional Leader, Lemma Megersa.

Meanwhile, the United States of America Embassy in Ethiopia issued security alert to its citizens to reconsider travelling within the proximity the celebrations took place. It was reported that the 2016 celebration turned violent with several people killed or injured.

The country's Prime Minister Aby Ahmed Ali urged Ethiopians to celebrate Irreecha in an atmosphere of peace and tranquility.