Stephen Mwiti's wife, Bahati Joan, was one of the many victims of false teachings from Mackenzie. The preacher said the world would end in June 2023, and Mwiti's wife blindly believed.
For this reason, he is sure his wife and his six children had starved to death.
Mr. Stephen has been asking if anyone has seen this wife and kids. A photo of him surfaced, holding a photograph of his family. He has been to Shakahola forest, where pastor Mackenzie has held his members captive. 
Stephen said his wife had been a staunch follower of pastor Mackenzie since 2015 and was at Shakahola for the first time in 2021. Her visit has been consistent since then. 
She left with their unborn child and their other children last year: Hellen, Samuel, Jacob, Lilian, and Angelina.
Despite several rescue attempts, survivors informed him that his children had died in the forest massacre.
"They could identify them from the pictures. they knew their names and where Jacaob and Lilian had been buried. I was told not to try to look for my children again. they were all dead. I was too late." he says, trying to retain his tears.
They haven't found their bodies yet, but he is certain that they buried them in the forest, which has thorn bushes, thickets, and sweltering heat all year. The forest's Swahili name, Shakahola, means "a place where worries are lifted." The nearest main town Malinda is 72km away from the forest.
In Shakahola, pastor Mackenzie founded the new Holy Land, partitioned into villages referencing biblical places. 
While some members ruptured in Bethlehem, others lived bereaved in Judea and Nazareth.
Mr. Mwit has not been to the gravesite where the bodies were being exhumed, but he learned that his wife and children lived and died in Jerusalem.
Detectives originally mapped out 65 gravesites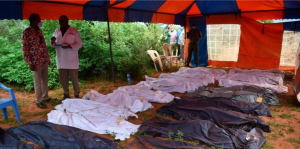 So far, one hundred ten people have been confirmed dead, but they fear the death count may rise as they continue to search the forest.
Titus Katana, one of those who escaped, says Mackenzie tagged anyone who tried to abscond a betrayal and attacked them brutally. Former Mackenzie followers confirmed they starved as part of their allegiance to his teachings.
Part of the teachings was that there was an order that people were to die before the world ended.
"The children were the first to die. Then after the children, they went for the unmarried. Then after, the mothers and the elderly were next in line." The church leaders then take the last turn to die.
Mr. Katana said what cut his attention was that;
"Mackenzie was selling land to his members. That appealed to me; I bought 15 acres"
In addition, Mr. Katana said he thought Pastor Mackenzie was "charismatic and preached God's word, but when I saw his preaching was odd, I chose to leave."
Although Mackenzie's video sermons were discovered, it did not prove him telling people to starve, but there is evidence of his members losing their lives and kin -BBC analysis.
Following this was a report from the Kenyan red cross that 410 people, 227 children, went missing. This raised speculations that link to the Pastor's heinous dealings. 
Read also: Kenyan Pastor Paul Mackenzie Preaches False Doctrine to Lure Devotees
After his mother went missing two years ago, he found her in the Shakahola forest, but his effort to persuade her to leave was futile. 
"I asked her if she would accept to come home. She told me she was there for one mission, to find Jesus,"
Mr. Ngumbau says as he lines among the anxious crowds of hundreds. Families of missing relatives across the country and its neighboring country; Uganda, Tanzania, and Nigeria, have gathered in Malindi, waiting to hear about their relatives; dead or alive.
In March 2023, Authorities accused Mackenzie of starving two children to death in Shakahola but released him on bail due to a lack of proper evidence.
However, he is back in custody on the charges of murder and threatening public safety.
The authorities are torn with a series of questions as to why it took this long to unmask such a life-threatening activity. President William Ruto has given his word to put a commission of inquiry regarding the situation.
Mr. Mwiti faults the police, government, and every local authority in Malinda for their negligence and failure to act on the matter.
"I am already 45 years old. The minute I heard that they had died, I felt that I had died too."
Mr. Mwiti gave a sample of his DNA to the authorities with the hope that his children will be found only then will he be able to mourn. BBC Africa reported.  
Bottom line
Not only did Mackenzie's followers blindly obey his teachings they were also brainwashed against the true message of the gospel.
Matthew 24:36 clearly says,
"However, no one knows the day or hour when these things will happen, not even the angels in heaven or the Son himself. Only the Father knows". 
It is also concerning that the authorities were slow to act on the situation, allowing Mackenzie to continue his deadly practices for years. This underscores the need for greater vigilance and intervention when it comes to potential cult activity and dangerous religious teachings.
As believers, we need to ground our faith in the Bible and be wary of teachings that contradict its message. Ultimately, the tragedy at Shakahola forest is a reminder of the need for discernment on the matter of faith and spirituality.