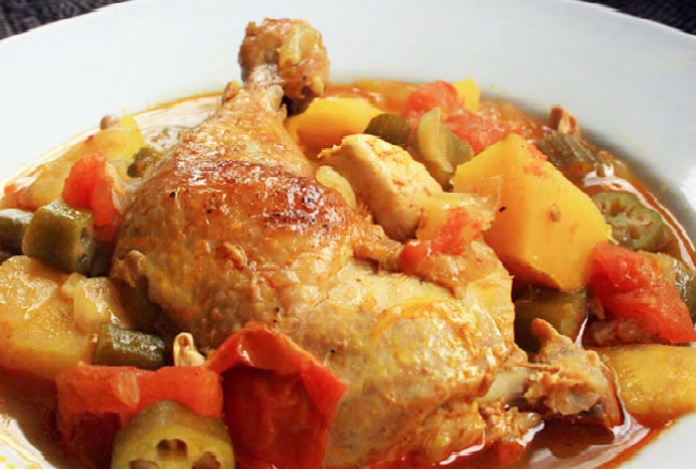 Africa is known for its cultural diversity. From West to East, North to South, different ethnic groups differ in regards to their culture. One of the major distinctive features is food and the cooking styles which in most cases are influenced majorly by the type of animals kept, types of crops grown or who colonized them. However, some of the Chicken Muamba African dishes have made to the international dishes, and today we are going to feature one of the popular South African dishes which will make you drool; the Muamba de Galinha.
Chicken Muamba is a popularly known aromatic chicken stew in Angola. The stew is usually cooked in palm oil and seasoned with garlic, hot pepper, vegetable, and thickened with okra. In fact, this cuisine is a national Angolan dish which you may also find in some of the international restaurants.
In case you cannot afford to pay for one or don't have a clue where to buy one, you can prepare your own at home with these simple and easy to follow instructions.
What makes the recipe great?
Easy to get ingredients
Easy and simple to follow instructions
Well quantified ingredients
Recommended cook time to help prevent over or undercooking
Accompaniments provided
Recommended serves
How to prepare
Method 1
Preparation time: 1 hour 15 mins
Difficulty level: Medium
Serves                     : 4-5
Ingredients
1 whole chicken ( chopped in serving sized pieces)
3 chopped onions
1 lemon
3 tomatoes, divided into four parts
250ml groundnut oil with two tsp paprika/ 250 ml palm oil
1 sweet pumpkin (deseeded) and reduced into bite-sized pieces/ 1 butternut squeeze
1 whole chili pepper or scotch bonnet pepper
20 small, cleaned and tender okra
2 minced garlic cloves
1 ml table salt
 Preparations
Cut your lemon into two. Squeeze the juice over the chicken and leave it for about an hour to marinate
Pour oil into a deep frying pan and heat it at high temperature
Put the chicken pieces into the pan. Keep turning them until they turn brownish
Add your garlic, onions, tomatoes and whole chili pepper
Lower your cooking temperatures to medium and keep on stirring occasionally for 30 minutes
Add your deseeded sweet pumpkin or butternut squeeze and cook for 15 minutes
Add your okra and palm soup base and simmer it for few minutes till your okra is seasoned and tender
Tip: Serve it with maize-based fufu or rice
Method 2
Preparation time:  1 hour
Difficulty level: Medium
Serves: 4
Ingredients
1 whole chicken sliced into pieces (3.5lbs)
2 tsp of palm oil
1 tomato ( large)
1 small diced onion
1 can of tomato paste
Thyme1 tsp
Black pepper 1 tsp
One bay leaf
1 hot pepper
1 crushed garlic clove
1 tsp salt
Half full cup of peanut butter ( chunky)
Directions
Put your chicken in a cooking pan and add water with bouquet garni. Simmer it until the chicken is tender and the meat is almost falling off the bone
Remove the meat from the bone by pulling it and set aside the stock
Sauté the garlic, onions, hot pepper in oil till translucent
Add your tomatoes and continue stirring for some few minutes
Add a half cup of stock, peanut butter, and tomato paste.
Continue cooking your sauce until you get a spaghetti sauce like texture
Put your chicken meat back into the cooking pan and simmer it for some few minutes
Ready to serve
Tip: serve with rice
Have you ever enjoyed chicken Muamba before? What do you love enjoying it with? Please share your contributions on the comments section.