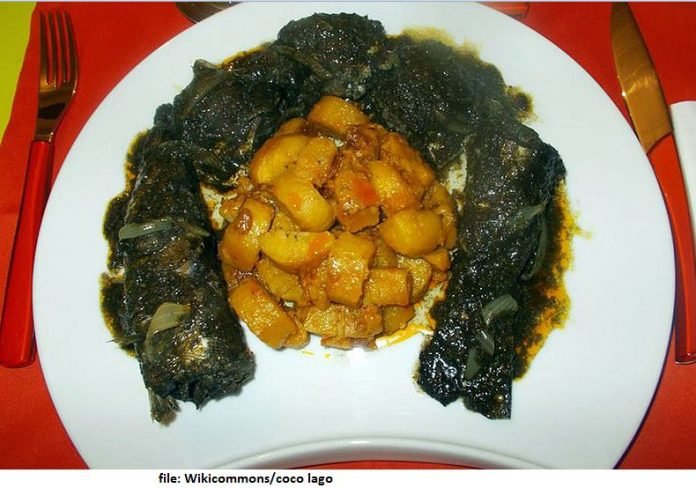 Mbongo Tchopi, also known as the Mbongo spice, is a spicy black stew popular among the Bassa people of Cameroon. Though it is one of the popular dishes in Cameroon, it has gained popularity in other parts of the world as a result of the interactions that people have had with the people of Cameroon. If you are a fan of the dish or probably you would like to introduce new cooking ideas, why not try out this dish. The cooking procedure is easy to follow, and the ingredients used are readily available in most stores.
And below is a step by step guide on how to Mbongo Tchopi.
Dish: main course
Type: cuisine
Servings: 3
Ingredients
One pound of beef
Already ground Mbongo spice (about two teaspoons)
One onion
15 seeds of Njangsa
A stem of leeks, already chopped
A ginger root that is already peeled (½ inch)
2 large tomatoes that are roughly chopped
3 cloves of garlic that are already chopped
One African nutmeg ( ehuru or pebe)
Two seasoning (Maggi) cubes
One teaspoon of table salt
Vegetable oil
Pepper 1 tbsp
Celery stalk, already chopped
Two stems of green onions (optional)
Procedure
• Cut your beef into pieces. Add water in a pot, put salt then bring your beef to boil
• Add tomatoes, ginger, African nutmeg, Njangsa, Mbongo spice, ginger, onions, garlic, and half of the onions you have into a blender with enough water (half a cup). Make a paste and ensure that you leave them to mix well so that you come up with a well-made paste.
• Add the paste onto the boiled meat and leave it to rest. This should last for about 5 minutes.
• Put a pot on your source of heat, add vegetable oil, and add half the onion that you left and heat until the onion is golden brown.
• Add the meat into the pot and spice it up with Maggi cubes and salt. If you like pepper, you can also add it at this point.
• Cover and let the food cook for about 15minutes. Open and taste to ensure that the seasoning is up to standard. If not so, you can add more seasoning cubes and pepper, to get your preferred taste. If the stew is too thick, you can add a little water to lighten it up. Note that many people prefer a stew that is not too watery.
• Leave the stew to cook for 5minutes and remove from the source of heat.
• You can serve while hot with yams, plantains or Miondo
Note: You can use chicken, pork or fish instead of beef. Avoid using hot pepper when preparing the dish for kids.