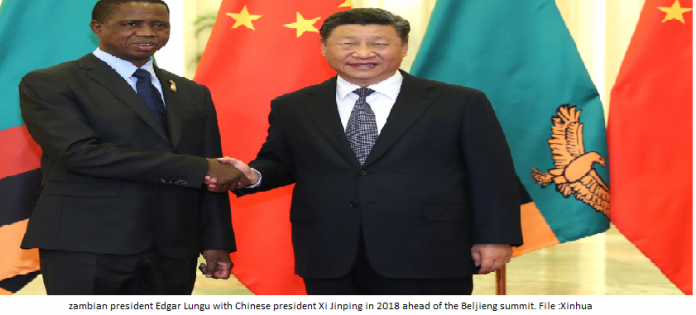 African countries have been beneficiaries of Chinese loans for years now. Most of the countries that benefited from these loans were unable to repay back and China still continues to loan more which has raised questions on the Chinese plan towards African countries. Normally, when one borrows a loan and defaults, their creditworthiness is always in doubt and chances of the lender loaning the defaulter again are minimal, but China does not seem to worry about the huge debts owed by African countries.
For instance, in 2000, China had invested over $210 million in Africa and the figure increased to 3.17 billion in 2011. While borrowing is essential to the development of many countries, it is equally important for these governments to be keen on borrowing. This is because some countries have already defaulted on the loan and the China government is considering to repossess key government properties and institutions. Below are some of the African countries who have been beneficiaries of Chinese loans and how it has impacted the economic growth of these nations.
 Zambia
Many citizens have criticized the relationship of Zambia and China claiming that the bond is characterized by progressively careless borrowing that is a threat to the sovereignty of the country.  This made the citizens of Kitwe, a town in the copper mining belt protest after they heard that the government plans to give out the state-own timber factory to the Chinese.
Most of the protestors were local sawmill laborious who were worried that they will soon be jobless or end up being hired by the Chinese. They provoked the police in running battles, destroyed and looted Chinese shops and over 100 people were arrested.
As at this year, the country owes China a debt of $5billion and is still borrowing more which most citizen's claims is putting the country into an economic crisis. China was super-fast to give cheap financing to Zambia since they wanted to benefit from the copper deposits.
Zimbabwe
Most dealings of Zimbabwe and China are masked in a high level of secrecy and it is not clear how much loan the country has acquired from China and how the dragon has accrued. What's worse, more than 55% of Chinese firm top posts like managerial roles in Zimbabwe are taken by Chinese expatriates.
Therefore, the most lucrative job appointees are held by foreigners who don't inject the part of income as taxes back to the economy. As per now, the country owes China a debt of $18.7 billion and a big part of this amount could be repaid by the lost income. Since the country can't pay back all these amounts, China necessitated to be relieved from local labor laws and this made them acquire almost all mineral and mining rights to pay back the loan. The country's economy will continue to sink since the inflow of income is limited and the proceeds from the minerals go directly to China.
Kenya
A survey done between July and August shows the bond between China and Kenya is not healthy for the economy due to the threats posed by its counterfeit products, fear of nurturing corruption and lack of employment.  One of the most significant projects that were a beneficiary of the China funding, SGR, is yet to make any profit, and it is the responsibility of tax-payers to clear the huge debt.
During the construction of standard gauge railway that connects two major cities (Nairobi and Mombasa) the Chinese company decided to import labor from their country instead of employing the locals. And Kenyans who managed to work at these construction sites experienced unimaginable mistreatment and racism.
The employees of China Roads and Bridge Corporation, a company that constructed the SGR (Standard Gauge Railway) were charged with bribery in the ticketing section in November 2018.  Sources from the SGR ticketing docket have revealed that over 1 million Kenya shillings were stolen daily from all trips. This is a huge blow to the taxpayer and to the economy of the country.
Nov 2018, a Chinese tycoon offered to give a loan worth $ 3.1 billion in exchange for the capital city, an offer that was declined by the Kenyan president. This shows how China is ready to exploit African countries by making them fall for their cheap loans.
In case Kenya fails to pay the loan, China will demand to extort a lease of strategic property in exchange of the loan, just like what it did to Djibouti and Zambia. One of the key assets is the port of Mombasa that is situated on the silk belt and road route.
Conclusion
It is beyond any shadow of doubt that African countries that have fallen prey to cheap Chinese loans have suffered a huge economic blow and most of them have defaulted to repay back the money. Those who have failed to honor the agreement have been affected economically with some losing some of the national property to the Chinese government. Worst still, China has been seen employing their own and mistreating the natives who manage to secure jobs like the case of Kenya. This is another huge blow to the citizens who are mistreated on their own country. Even after completion of the project, the Chinese still insist to run the project which does not solve unemployment in Africa. The case of Chinese defrauding the Kenyan government shows how African countries might have lost huge amounts of money unknowingly eventually making these countries poor day by day. Africa is a rich continent with untapped resources which can be utilized to generate more income and reduce the borrowing rates. Other African countries who may be planning to borrow loans from China should also learn from the affected nations and look for ways to generate more income and reduce borrowing otherwise they may risk facing a huge economic crisis.
Do you support Chinese loans to Africa? Please share your views
---
The perspectives of our community matter in media! It's about our voice,  and taking control of our narratives. Please join and support us!
Visit AfroGist Media channels  often for news updates. Access other thoughts and analyses here, reach out to post your commentaries, and feature your platform.  Watch shows, and participate in crucial conversations that concern us. Connect with the community.