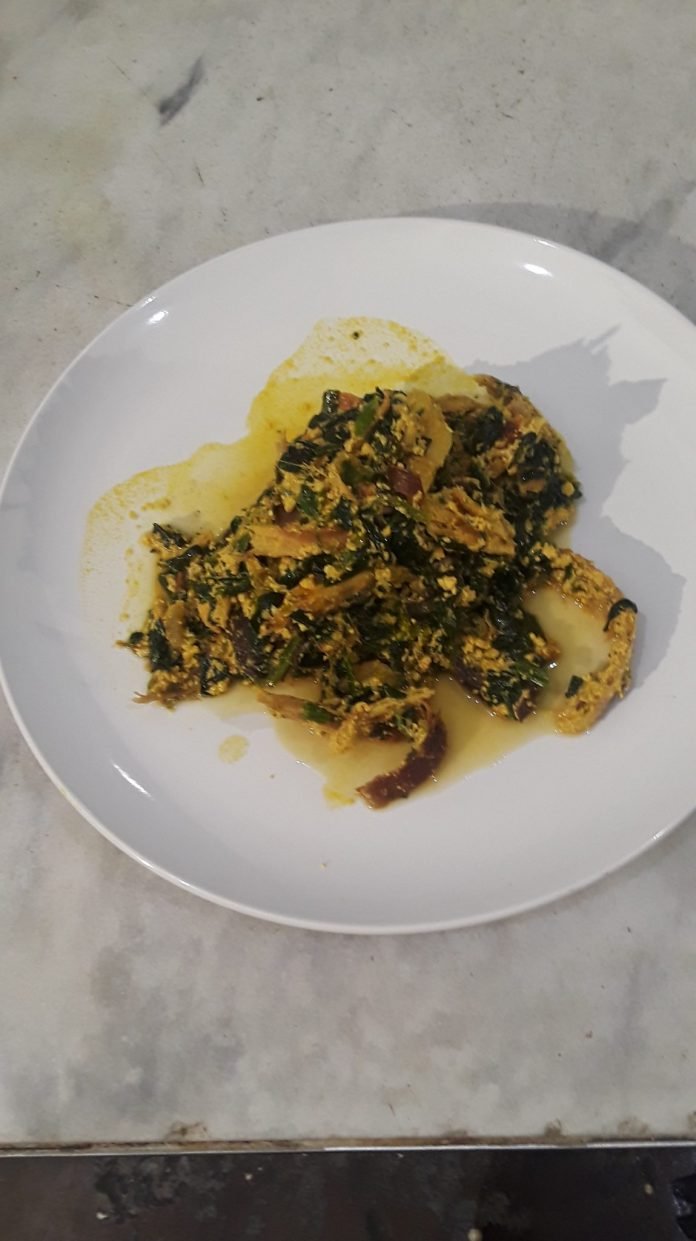 It's called Egusi. Unless you speak that Yoruba – Nigerian language, there's no way you'll pronounce this dish without an accent. The good news is you can cook and enjoy it like Nigerians.
Overview:
Egusi is the main ingredient in Egusi soup, and it's made out of dried melon seeds (a family of honeydew seeds). Nigerians enjoy this soup usually in combination with mostly Pounded Yam (Mashed Yam), Eba; Amala (Mashed-fermented-roasted Cassava), Semovita/Semolina ( made out of wheat), and even Rice.

Here are the ingredients, and the recipes our Host worked with in this video. Feel free to copy paste, explore the cooking, and share your comments.
Ingredients:
2 cups of Egusi
4 cups of thawed cut spinach (available at African market)
½ cup of palm oil
1 tablespoon of tamarind powder (optional)
I cup of chopped mushroom (optional)
1 cup of crayfish (optional) [available at African market]
2 cups of stock fish (available at African market)
1 Maggi/Known seasoning (Chicken Bullion) [available at African market]
⅓ tablespoon of curry
⅓ tablespoon of lemon zesty
⅓ tablespoon of salt (optional)
One large onion
2 ripe tomatoes and one red bell pepper
⅓ of 1 Jamaican hot pepper

Recipes:
Bring about 5 cups of water to boil
Mix Egusi blend with one cup of hot water to get a puree texture
Soak up stock fish in a separate bowl of 2 cups of hot water, and the crayfish in the remaining water for about 10 minutes to parboil and rinse
Then rinse out the stock fish in clean cool water, and do the same with crayfish, drain and leave each in their separate bowls
Cut out ¼ of onion and chop. Blend the rest along with rep bell pepper, Jamaica pepper, and tomatoes
Put palm oil in the cooking pot on a medium heat
Once the oil starts to shimmer, sprinkle in the chopped onions
Stir until onions start getting crispy and beginning to release flavor
Add the egusi using tablespoon to dish it bit-by-bit into the pot
Stir very well but don't over do- it's okay if some egusi form up in small little ball shapes
Add the pepper blend, herbs and seasoning
Mix together, then add all your extras (stock fish, crayfish, mushroom at this point
Cover and let alone for about 10 minutes, then add spinach
Mix well, and cook the content for additional 7-10 minutes
Enjoy it by itself, or along with any of the complementary dishes mentioned above.