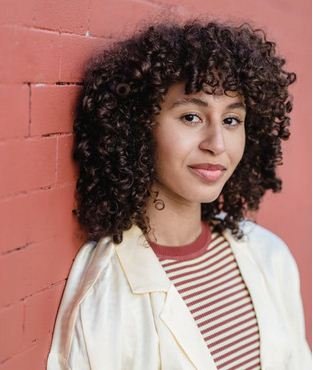 Damaged curly hair tips for black women. Curly hair, just like any other type of hair, requires good care. But at some point, you may feel like losing it all when you spend much on hair products that aren't getting you the right results. And you end up losing trust in all the products out there. But most of the time, it's not the case. What most people don't know is that some hair care routine can damage your hair.
I'm sure you may be wondering how taking care of your hair can damage it. The thing is, we are all meant to believe that our hair breaks when we neglect it, but as well as this is true, some practices that we include in our hair maintenance routine may cause more harm than good. But the good news is that you can repair the damage and restore your hair to its former glory.
Recommended: 10 Summer Protective Hairstyles For Black Women
And in this piece, I will teach you how to repair your damaged curly hair. Let's jump right in!
Identify The Cause Of Damage
There are different factors that can be attributed to hair damage. And before you can conclude, you need to investigate what could be the reason behind your hair damage. Take a look at what you are doing differently that you were not doing before noticing the breakage.
Sometimes it can be tempting to color or heat style your curly hair, but it's good to be cautious as it may lead to costly damages.
 Introducing a new hair product, changing your diet, taking medication, hard water, protein overloads, or over-moisturizing your hair can wreak havoc.
Read Also: Basic Skincare Routine: 14 African Beauty Secrets For Flawless Skin
However, breakage caused by protein or moisture overload can be a challenge to notice, but you can quickly know the problem by paying attention to your hair texture. And here is a low down of how to identify.
Balanced Hair
Holds style for long and perfectly well
It stretches smoothly and returns to normal without breaking
Minor or no breakage
Solution: continue using hair products with protein and moisture.
Protein Overload
Dull
It does not stretch smoothly
Sheds a lot
Snaps easily
Tangles a lot
Brittle
Rough and straw-like
Solution: deep condition weekly and keep off or reduce the frequency of products with protein and replace them with ones with moisture until your hair returns to normal.
Moisture Overload
Mushy when wet
Fluffy
It does not hold style or curls well
Soft
Elastic and Stretches before breaking
Solution: Use lighter products and use hair products or treatments with protein until your hair is balanced.
In case you suspect you may have a health condition, you need to seek medical attention. Once you have identified the problem with your hair, you need to start over and nourish it to help get all the nutrients required for that incredible shine.