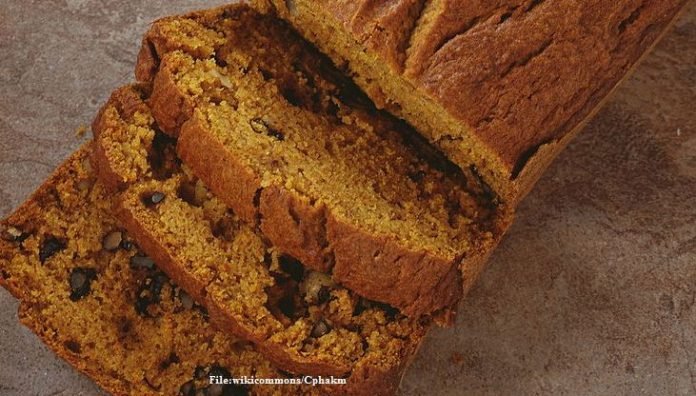 Pumpkin bread is a great treat to kick-start your day. It's not like the regular bread you buy in your bakery store. It is a nutritional powerhouse for keeping you fueled for longer.
Normally, the bread is prepared with squash and combines different ingredients that offer amazing health benefits to the body. Baking flour, butternut, eggs, milk, baking powder, sugar, and salt are the main ingredients.
Recommended: Learn How To Bake Algerian Mkhabez
Nutmeg, cinnamon, cloves, and turmeric can be used to enrich its flavor. Turmeric gives the bread a rich yellow color that is so appealing to the eye. That's not all; the bread is healthy, and here are reasons you should add pumpkin bread to your diet.
Benefits of Pumpkin Bread
– Butter squash is rich in vitamin A which promotes eye health, cell growth, and immunity.
– Squash is high in vitamin C, a potent antioxidant that helps boost immunity, accelerate wound healing, synthesis collagen, and tissue repair.
– Butternut is rich in B vitamins that help the body to form red blood cells and energy.
– Manganese, potassium, and magnesium are important minerals present in butternut and play an important role in bone formation.
Now that you know the benefits of pumpkin bread let's dive right into its history.
History Of Pumpkin Bread
Pumpkin bread is mostly associated with American cuisine. But the recipe has a long pre-Columbia history in North America.
Before European settlers, Columbians had different variations of pumpkin recipes.  The settlers adopted their cuisine, and pumpkin recipes were not an exception.
Read Also: Kenyan Black Forest Cake Recipe For Any Occasion
As time went by, more and more countries across the globe adopted the recipe, and today is part of international culinary art. Though there may be some slight changes from the original pumpkin bread, the difference is not that remarkable.
However, there is no documentation as to when the African variation was prepared.  And today, I will teach you how to prepare yours. Stay with me
Ingredients
2 butternuts (peeled and chopped into 1″ chunks)
4 cups baking flour
2tsp vegetable oil
1 tsp yeast
4 eggs
1 cup of butter
1 cup of milk
½ cup sugar
1 tsp cinnamon powder
½ tsp salt
1 tsp turmeric (optional)
-Guide-
Boil your pumpkins until ready. Do not over boil them. Drain them and blend them into a thick puree.
Sift the baking flour three times to aerate it. Transfer the flour to a mixer and all the dry ingredients. Mix at low speeds until evenly mixed.
Beat eggs and mix for one minute at medium speeds. Pour the vegetable oil, pumpkin puree, milk, and melted butter. Increase the speeds to high and mix the ingredients until thoroughly mixed.
Lightly grease two loaf baking pans 9" by 5" and divide your batter equally.
Preheat the oven up to 1800 C.
Bake for an hour or until a skewer inserted in the middle of the loaves of bread comes out clean.
Place in a cooling rack before removing from pans and slice as desired. Apply butter or enjoy with a drink of your choice.