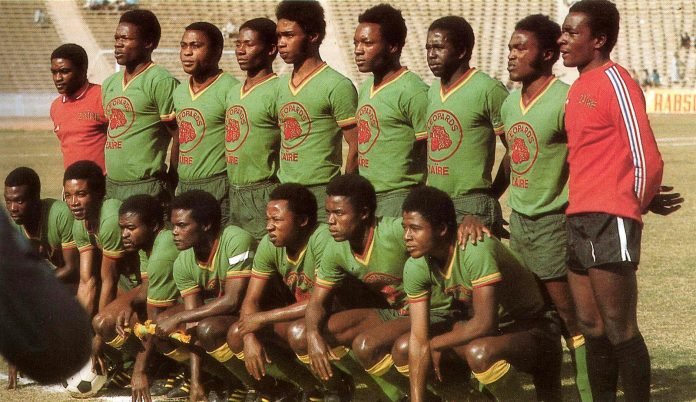 Today was a sad day for Nigeria as they lost against Croatia in this morning's match. The defeat comes after Morocco lost against Iceland yesterday when Aziz Bouhaddouz struck a goal in his own team's net. But fans are still hoping that an African nation will make it to the finals with Egypt, Senegal, and Tunisia still awaiting to play in the tournament.
Although the World Cup began in 1930 when the International Federation Association of Football (FIFA) organized the first of games, African nations played under European countries until finally gaining independence in the 1960s. Nonetheless, African teams and players have always remained an integral presence in the tournament. Let's take a look at African teams playing in the World Cup then versus now!
1. Morocco
1970 was Morocco's first World Cup match after having been unable to qualify for several years. In this photo, they are defeated by West Germany in one of their first matches of the tournament. Although they didn't make it very far, it remained an iconic match for Morocco supporters.
https://www.instagram.com/p/Bj172TXAGXu/?tagged=moroccoworldcup
2. Democratic Republic of Congo
Despite showcasing promising talent and expertise, DRC has only participated in one World Cup tournament that was held in 1974. They have failed to qualify since then, but this match has nonetheless remained significant for many Congo fans because of the famous "free kick incident".
3. Cameroon
Cameroon has played at the World Cup on seven occasions, with their first tournament having been the 1982 series of games. Although they didn't qualify for the 2018 World Cup, they are likely contenders for the next upcoming games.
4. Nigeria
The Super Eagles are making their sixth appearance at the World Cup this year, having played in their first set of games in 1994. Although they suffered a devastating blow in today's match, they're not out just yet.
5. Tunisia
Tunisia has appeared at the World Cup on four occasions, including this year's tournament. Their first match was played in 1978.