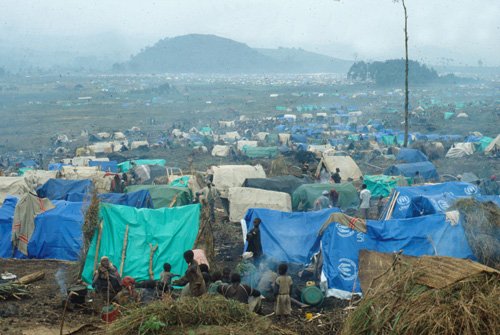 SLAVERY IN 2017
December 12, 2017
By Staff, "The Gist"
Yesterday, UNHCR, the UN Refugee Agency, launched an urgent appeal calling for 1,300 resettlement places for vulnerable refugees stranded in Libya. This, after the United Nations' Security Council's feckless official response to the selling of human beings in Libya.
"This is a desperate call for solidarity and humanity. We need to get extremely vulnerable refugees out of Libya as soon as possible," said Volker Turk, UNHCR's Assistant High Commissioner for Protection.
Resettlement is the transfer of refugees from an asylum country to another nation that has agreed to admit them and ultimately grant them permanent settlement. UNHCR is mandated by its Statute to undertake resettlement as a possible solution.
FLASH APPEAL
The 1st group of 25 refugees of Eritrean, Ethiopian and Sudanese nationalities were evacuated from Libya to Niger last month.
UNHCR has developed a Flash Appeal called VULNERABLE PERSONS OF CONCERN EVACUATED FROM LIBYA, in order to highlight the urgency of their call;
"Given the urgency of humanitarian needs and rapidly deteriorating conditions in detention centers, UNHCR has started life-saving evacuations of targeted groups of extremely vulnerable persons of concern. In the weeks and months to come, UNHCR will evacuate to Niger;
unaccompanied children,
single female parents,
women at risk,
persons with serious medical conditions,
single men who have been exposed to severe torture
The government of Niger has agreed to temporarily host persons of concern evacuated from Libya…"
This is an initial resettlement appeal. UNHCR will continue to identify persons of concern with strong protection needs in Libya as well as seek support from the international community for life-saving evacuations and resettlement. This Flash Appeal is made in the context of the overall request of 40,000 places for resettlement from the countries along the Central Mediterranean route.
INDEFINITE TIME PERIOD, DEPLORABLE CONDITIONS
"Many refugees, asylum seekers and stateless persons in Libya are victims of serious violations of human rights, including different forms of inhumane, cruel and degrading treatment," notes the Flash Appeal, which also says that a large number of them are detained for an indefinite period of time in deplorable conditions.
"Given the seriousness of the situation for refugees in Libya, we need to explore all sorts of solutions, including resettlement, family reunification, evacuation to UNHCR-run emergency facilities in other countries, or voluntary return," Turk added.