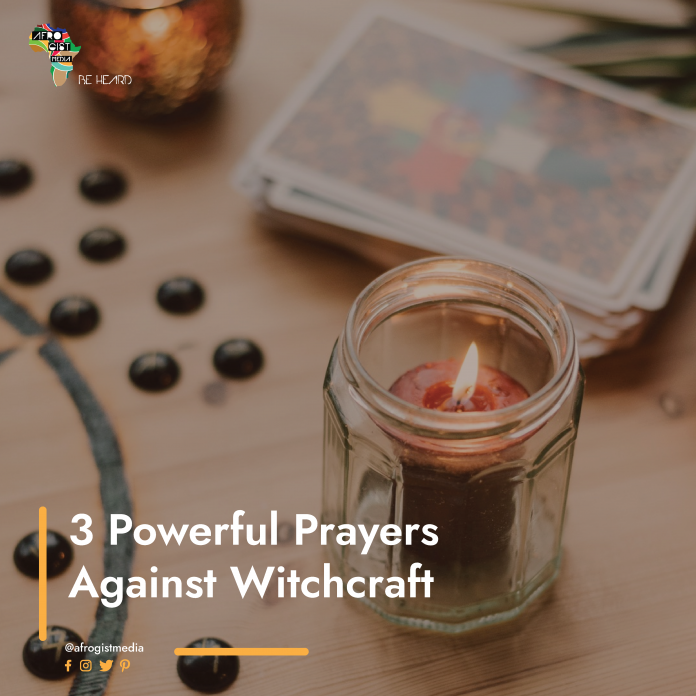 Black magic and witchcraft have dwelled amongst us for thousands of years, wrapped in a cloak of darkness with enchanting mysteries. Thanks to the gospel of Jesus, we have only survived by being armed with prayer against witchcraft and black magic. Shows like Practical magic, characters like Hermione from Harry Potter adorning themselves in pentagrams. Wiccan invoke Mother Earth for protection and guidance by encasing their homes with herbs and plants. Questions have been raised on what influences are at work in witchcraft and how to handle this evil influence.
Is prayer the solution to this supernatural act? The response is yes, Jesus taught about the significance of prayer; consistent prayer destroys all evil. However, God has given us a tool, and there are many ways to lift prayers against witchcraft.
Let's dive into the spiritual warfare tools, but before then;
What Is Witchcraft? And How To Be Aware of It
Witchcraft has to do with black and magical powers that a person practices as religion. The devil aids this practice, including fortune-telling, curses, crystals, and angel cards. Witchcrafts can be practiced by both males and females alike.
It is not uncommon for people to adopt a witchy lifestyle for protection. These people consult tarot cards and hold seances. A lot of people worship the created instead of the Creator.
The Bible sternly warns us to be aware of the enemy's schemes. Unfortunately, many believers assume the reasons for their depression, job loss, etc., have to do with witchcraft. But there are quite other reasons for trials like these. Depression could be a hormonal imbalance, the job loss could be due to the fact that God has a better plan in store for you.
This is What the Bible Says About Witchcraft?
The Bible has a lot of messages about witchcraft, and it condemns all forms of sorcery without prejudice. However, God and Satan hold all sources of spiritual power. One is the father of all good and light, while the other is the father of lies and darkness. Satan can only hold his power for a limited time—when God creates a new heaven and a new earth, he will be thrown into the dungeon forever Revelation 20:2. Satan finds a way to excel in counterfeiting God with his witchcraft power.
Under the Mosaic law, the penalty for practicing black magic or witchcraft is death because Satan used the same ploy to deceive Eve in the garden of Eden Genesis 3:5. Since then, Satan has been using every medium to distract us from worshipping God. With witchcraft comes the promises of spiritual enlightenment, self-realization, fame, etc. Why consult a spiritualist who has to invoke the dead for their power when you can faithfully seek God. Why consult the dead over the living?
Saul's death was tied to his unfaithfulness to the LORD; he rebelled against the word of the LORD and even consulted a medium for protection. Every form of rebellion is an act of witchcraft 1 Samuel 15:23. When we stand firm with God, we embody His whole armor by building a relationship with Him through Christ Jesus and the Holy Spirit who dwells in our hearts. By doing so, we can resist the enemy's schemes.
Here are the three powerful prayers against witchcraft.
A Prayer of Protection
Lord Jesus, we are grateful and honored to be your children. More importantly, we are thankful that you keep loving and protecting us in this scary world. You remind us that our thoughts and focus should be inclined to you, Lord. We ask for protection and discernment against those who call evil good. Keep us safe even during these trying times as we continue to express your love and light to others.
Related: Are Demonic Possessions Real?
Nullifying The Powers Of The Dark
Almighty Father, we bow in reverence to worship before your holy name. By your blood that was shed on the cross, we bind every principality and power in high places. In the name of Jesus, we bind every mind-absorbing spirit, witchcraft, and rebellious spirit.
We ask that you deliver us from all sorts of addiction and break every spirit of greed and hatred. Heavenly Father, we humbly ask that you quicken our spirit and body so that we can know when we are being deceived. We pray that every satanic force active in our lives and counterfeiting the presence of God be nullified; amen!
A Prayer Against Spiritual Attacks
We know the devil is fighting us so hard because he knows we are making a difference for your kingdom. Lord, remind us that the battle is yours, and whatever is against us can be taken down in no time by your mighty hand.
Please help us trust you to spin the wheel and fight the battle on our behalf. Fill us up with the power of the Holy Spirit. Thank you for the constant reminder that your presence is always with us. 
Bottom line
To this end, Prayer is the only weapon that conquers every form of supernatural act that counterfeits God's glory. Pray and seek God with any of these powerful prayer guides and watch Him fight for you.