Threads App logged 78 million sign-ups in its first 48 hours of launch, making first of its kind. Currently, the number one most downloaded social on the app store. Its exponential growth took the Meta CEO Mark Zuckerberg by the throat.
In a post on Threads, he said, "way beyond our expectation."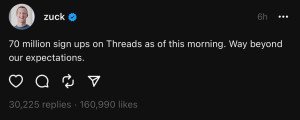 Threads officially launched on July 5th, 2023, to offer real-time open conversation, a feature that has since been a unique selling point for Twitter.
"The vision for Threads is to create an option and friendly public space for conversation," Zuckerberg said in a Threads post following the launch. "We hope to take what Instagram does best and create a new experience around text, ideas, and discussing what's on your mind."
He shared his thoughts on whether Threads will ever be bigger than Twitter.
"It'll take some time, but I think there should be a public conversations app with 1 billion+ people on it. Twitter has had the opportunity to do this but hasn't nailed it," Zuckerberg wrote on Threads. "Hopefully we will."
In contrast to Twitter's 280 character limits, Threads allows 500 character limits.  
The Meta CEO also said he wants Threads to be known for "kindness" as opposed to the vitriolic nature of its Twitter rival. 
With Threads trending on Twitter, the bird app was thrown into a frenzy. Inducing a lot of mixed reactions among Twitter keypad warriors and Instagram respectful baddies.
A Thread user posted;
While some tweeters try to find significance in what Mark aims to achieve with the new app, the shiny object folks have already flown to Threads to start threading.
A concerned Twitter user said;
Unpopular Opinion about "Thread"

This platform is just a shittier version of the "Twitter".

I only used it for few hours when it was launched, Now I don't even open until I get any notification.

Consuming content on #threadapp is generally complicated and awkward… pic.twitter.com/0kIwkCuRTq

— Zaffar (@zaffarmohammedd) July 7, 2023
Elon Musk has responded to the new rival in an official statement, filing a lawsuit against the Meta CEO Mark Zuckerberg over a Twitter clone. The app is alleged to be a "systemic, willful, and unlawful misappropriation of Twitter's trade secret and other intetectual property."
Elon, amidst his many itchy finger posts, tweeted;
The Threads app is linked to your Instagram account, making onboarding a breeze. They allow the transfer of followers from Instagram to boost the size of social followings. 
The Threads app rivalry comes after a sudden outage and heightened turmoil at Twitter, followed by imposed temporary view limits on tweets while engaging the app.
Considering the vast Meta resources and massive user engagement, can the fast-rising Threads app oust Twitter? Let us know in the comments.