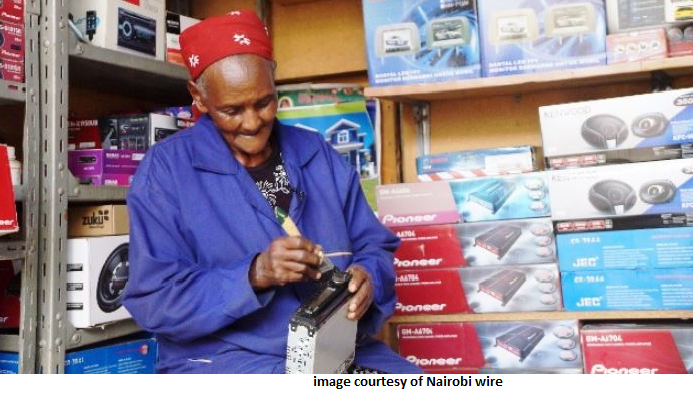 Cecilia Wangari, an 80-year-old grandmother has stepped forward and proved to many people that age should not be a limit when chasing your dreams. Wangari is a Kenyan citizen who lives in Nairobi. Her story has really touched and challenged so many people who tend to take age as an excuse for not making any income. Isn't it unbelievable that an 80-year-old granny has the knowledge to repair a sound system? tWell, here is where her journey started.
Where it all begun
Life has not been easy and this has not been different for Cecelia Wangari, but we all start from somewhere. Her story began when her husband died during the Mau Mau war. But this did not put her down; she had to figure out how to make a living and feed her children.
She had to beat the odds and do heavy jobs where she used to drive trailers to earn a living. People used to laugh and mock her but she never paid attention to them. She saved enough money and bought a matatu.
Whenever her matatu broke down, she would go to the mechanic and observe carefully how the repair was being done, and this is when she started gaining the experience. As time went, the matatu industry stressed her to the extent that her doctor advised her to quit the business.
This gave her a good opportunity to put the repair skills she had learned from the mechanics into practice. With the experience she gained, she took her time to open a sound system and tried to fix it back until it worked properly.  Later, she opened a sound system shop where for over three decades now, she has wowed many of her clients by offering stellar services.
How she runs her business.
Since she opened her first shop, her business has grown to leaps and bounds and this has seen her open four more sound system shops. Her knowledge has not only benefited her but also other people in society.
She works alongside her sons, grandsons and their wives. She also has other employees apart from her family. Wangari has been an inspiration to many and she has trained so many young people on how to fix cars' sound systems, helping them make a living out of it.
To ensure that her customers get her full services all the time, Wangari spends her night in one of the shops that she operates in Kariobangi South Nairobi. For her, she cares a lot for her clients and she has no problem spending her night in an aluminum room. That ensures that her customers get access to her services at any time.
Cecilia Wangari believes that everybody should try and make a living no matter their age. Her hard work has challenged so many youths who blame the government for lack of jobs. During her time, Women were viewed as weak and only belonged to the fireplace. Good jobs and businesses were for men, but this did not bring her down. As an African woman who lost her husband during the Mau Mau war, she has come out to prove that women deserve a place in the society and you do not need to have a good academic performance to make it in life.