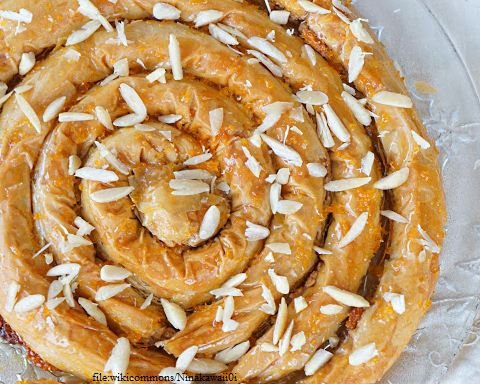 M'hanncha recipe, a.k.a snake cake, is a mouthwatering Moroccan treat that resembles a coiled snake.  The dessert is prepared by coiling almond paste in a snake-like shape. It is not only known for its unique shape but also its fragrant taste, and moist texture. No festive season in Morocco is complete without one.  
However, to achieve the authentic taste of a traditional M'hanncha, you have to get the recipe right. And today, I will teach you how to prepare one like a pro. But before then, let's look at how the recipe got its name.
Read Also: Meskouta Cake Recipe – A Tasty Butterless Moroccan Pastry
How M'hanncha Recipe Got Its Name
M'hanncha is an Arabic word for snake. The cake got its weird name from its spiral shape that corresponds to that of a snake.  Its blend of almond, orange blossom water, and spices gives the treat an irresistible taste that gives your taste buds an orgasmic feel; a great reason why the cake graces most important occasions in Morocco and beyond.
Recommended: Chebakia Recipe Tasty Moroccan Sesame Cookies
Though the recipe requires proper preparation and patience, the results are amazing. However, you do not need to have any prior baking experience to prepare a perfect M'hanncha. The recipe is easy to follow with easy-to-find ingredients.
And here is what you need to bake a tasty M'hanncha.
Ingredients
Almond-orange paste
4 cups almonds
1 tsp cardamom
2 tbsp orange juice
½ tsp cinnamon
3 eggs yolks (beaten)
1 tsp vanilla
1 cup confectioner's sugar
2 tbsp orange blossom water
1 tbsp orange zest
½ cup unsalted butter
Assemble Cake
½ cup butter (unsalted)
1 tbsp water
1 tsp cinnamon
2 egg yolks (beaten)
16 (12" x 17" ) sheet of phyllo dough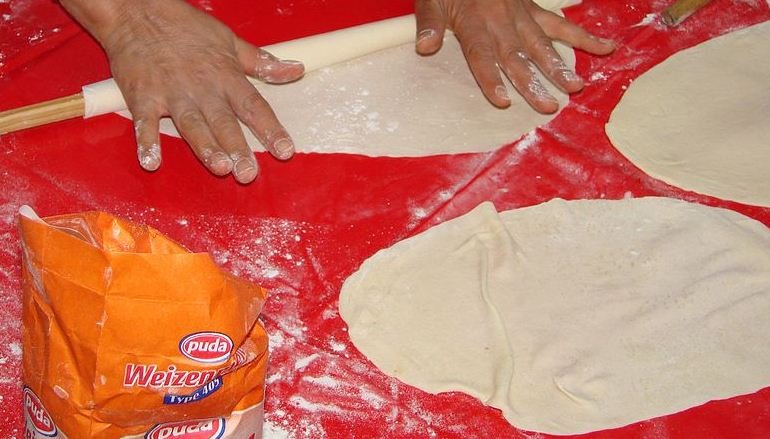 Toppings
1 tbsp cinnamon
1/8 cup confectioners' sugar
¼ cup sliced almonds
Guide for Almond-Orange Paste
Add the confectioners' sugar, almonds, cinnamon, orange zest and cardamom in a blender or food processor and blend into a coarse paste.
Transfer your beaten eggs into your blender, and add the butter. Blend the mixture until you get a consistent mix.
Put the paste in a bowl, add orange blossom water, cardamom, and orange juice, and stir for two minutes.
Divide the paste into 16 equal portions and place them in a platter and refrigerator for one hour.
Dust your working surface with confectioners' sugar, and start rolling your balls on the surface into a 3 ¾" tall.
Assembling The Cake
Preheat the oven up to 1800 C. Dust your working surface with confectioners' sugar.
Lightly butter a large baking sheet. Place the phyllo dough on the sugared surface and fold it into a four by fifteen-inch rectangle. Brush the dough with butter. Place folded phyllo dough and brush with butter. Repeat until you have four buttered sheets.
Place three Almond-orange paste balls in a row and one long phyllo pastry. Roll the pastry over and fold the ends. Lightly brush butter on the ends to seal the seams and shape it into small, tight coils. Place on a baking sheet with the seam side facing downwards.
Repeat the process to make three more phyllo rolls. Place it at the end of the coil to form a large spiral.
In a bowl, mix the egg yolks, cinnamon and water. Whisk together and brush the mixture over the coiled phyllo.
Bake for about 20 minutes or until golden brown. Place in a cooling rack.
As the cake cools, mix cinnamon and confectioner's sugar. Mizzle on top of your cake and top it up with sliced almonds.
Slice your M'hanncha into desired pieces and enjoy with a fruit juice of your choice. Wrap the remaining with cling film and store it at room temperature and consume the remaining within three days.