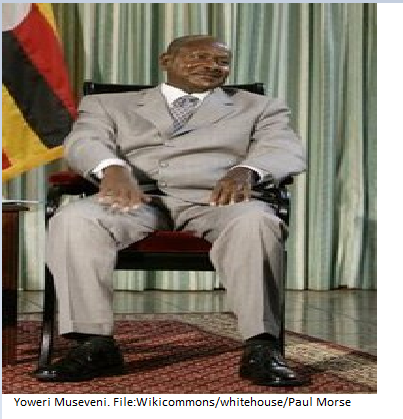 Is  Uganda President  Shaking or Unshaken?
Uganda President, Yoweri Museveni, is reportedly not only offering asylum to Sudan- ex dictator, Omar al-Basir, but also he's aggressively crying it loud.
Museveni gained power since January of 1986 after  several episodes of war and unrest in the region. He maintains a record of 33 years in power, and now on the list of African nation presidents that is refusing to go.  
Credit is indeed due to his effort in restoring peace and some level of political stability in Uganda. The corruption and ineptness of his administration, however, are huge factors that have quickly chipped away this credit.
Many weak and greedy African leaders stay in power for decades holding the premise that no one else could do the job better than them. But this premise is also the one that helps show the depth of their pathological shallowness: a leader's inability to vouch for any potential quality succession  speaks volumes on their gross ineffective leadership.
Museveni is now 74 years old, and apparently not ready to retire. Earlier this year, Uganda's supreme court moved to change the country's constitution in a way that obviously favors him to continue to stay in power.
Following the efforts of Algerian youths in Algeria, and then the Sudanese people in toppling al-Bashir, Museveni should wonder if his case is next.  The world can only watch and see what the moves of civically minded Ugandans would look like: it's either they take advantage of the current momentum in Africa and ask Museveni to pack up, or  they chicken out in fear and keep hanging up hopes.
What should Museveni be doing at this time?
A shrewd leader would begin  spending time and energy on identifying potential leaders who can take Uganda to another milestone. He or she would  focus on strengthening the civic base of young Ugandan nationalists who can stand tall for Uganda, and further help carry on whatever vision he has for the country once he's gone.
Such a leader would spend time reflecting on the kind of legacy he'd like to  be remembered by, and start exploring how to maintain some level of influence and making himself a  useful resource for the next generation of African leaders.
But  these are too damn good advice for African leaders like Museveni to consider- until perhaps their grounds are beginning to shake. By then though, it could be too late.
Leaving with Dignity Intact.
There must be a billboard situated at some place  close to Museveni where he could read the sub-title above? Forget the question of being able to read, if he's getting the message on al-Bashir , and offering him his unsolicited asylum, then he can see the billboard.