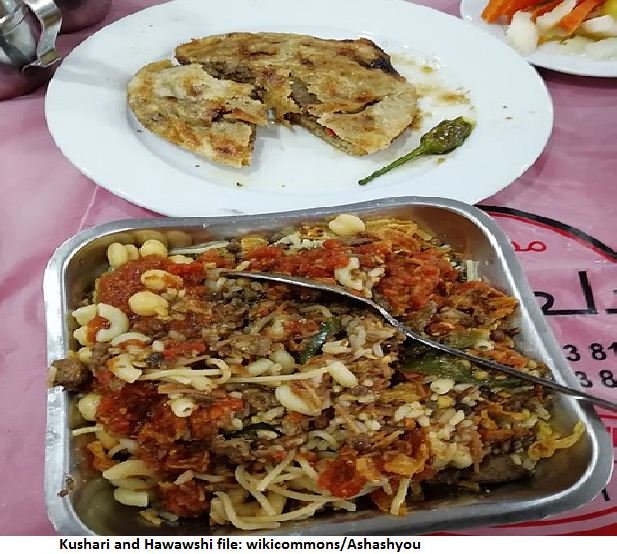 Kushari aka koshari is a traditional Egyptian dish which dates back in the 1800s. It is a blend of flavors and textures topped with fried onions and spicy tomato paste. The dish which has gained popularity since then is one of the national dishes you can't miss when you walk in the streets of Egypt or in any restaurants. The hearty meal can be enjoyed in the morning for breakfast, during lunchtime or even dinner. And while you can enjoy your koshari in a restaurant, bringing the exquisite aroma of this hearty Cairo dish in your kitchen is worth it. To make the preparation time easy, we have compiled a detailed cook guide. Just take a look!
Course: Main course
Cuisine: Middle Eastern
Serves: 7
Preparation time: 10mins
Cook time: 35mins
What you need
For the dish
500g white or brown rice medium grain (cooked)
Two cans of lentils 250g each
Two cans of chickpeas 250g each
For pasta
450g spaghetti (broken into 1" pieces)
For the tomato sauce
2 Diced tomato cans 14oz each (undrained)
One minced onion (small-sized)
2 tbsp. canola or olive oil
Fried onion topping
Unbleached all-purpose flour (3 tbsp.)
Two sliced onions (medium-sized)
2tbsp. canola or olive oil
Procedure
For preparing pasta
Add water in a pan (medium-sized) and boil it over medium heat. Add your pasta and cook for 10 to 12 minutes uncovered
Drain any water left and add little oil to prevent it from sticking
For the sauce
In a medium-sized pan, heat 2 tsp of olive or canola oil over medium heat.
Add your sliced garlic and onions and cook them for two to three minutes
Add your canned tomatoes and other remaining sauce ingredients and stir for two minutes
If the sauce is too dry, you can add water as preferred
Taste your sauce and add salt and cayenne as preferred
For the onions
Heat 2 tbsp of canola or olive oil in a non-stick pan
Put your 3tbsp of flour in a bowl and add your onions. Mix them together and add to your heated oil
Fry your onions on medium heat until brown
Place a piece of serviette on a plate and transfer your fried onions to absorb any excess oil
Serving procedure
Each plate should start with rice, then lentils. Top it with your elbow pasta followed with half of you tomato sauce then your chickpeas and your crimpy onions.